The Bureau of Customs –Port of Iloilo has seized P7 million worth of secondhand goods, locally known as "ukay-ukay", from a warehouse facility in Barangay Villamonte, Bacolod City, on May 3.
A composite team, led by Port of Iloilo's Customs Intelligence and Investigation Service (CIIS) Field Station chief, IO1 Lot Abordo, Enforcement and Security Service–Customs Police Division personnel and members of the Customs Border Protection District VI team, in coordination with Philippine National Police and officials of Barangay Villamonte, inspected the storage facility, through a signed Letter of Authority from BOC Commissioner Rey Leonardo Guerrero.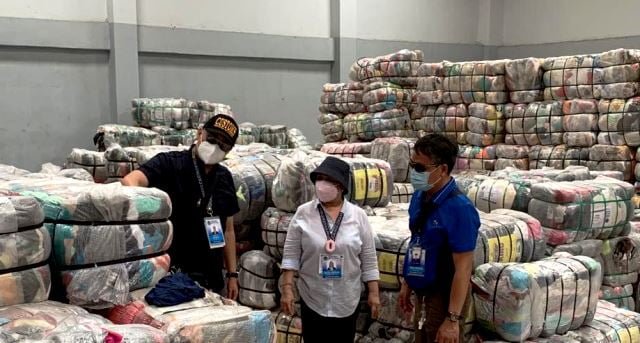 The team discovered bales of ukay-ukay containing used clothing, shoes, bags, bed sheets, and curtains, a press release from BOC said yesterday.
On May 4, district collector Ciriaco Ugay and collector Renevic Soliman of the Sub-Port of Pulupandan supervised the inventory of the seized goods by Customs examiners Jessie Nallos and Samson Alonsagay II, the press release also said.
Further investigation will be conducted for the possible filing of charges against the still unnamed owner of the items, for violation of Republic Act 4653, which "prohibits the commercial importation of used clothing and rags to safeguard the health of the people and maintain the dignity of the nation".
          BOC-Port of Iloilo, under the leadership of Ugay, is committed in pursuing the mandate of the Bureau to protect the country's borders against the entry of prohibited goods, the press release added. — CGC