Negros Occidental Gov. Eugenio Jose Lacson was not among the 24 governors, who signed a resolution urging President Rodrigo Duterte to run for vice president in the 2022 elections.
Lacson said he wants to resolve first the question if Duterte, as VP, can again be president.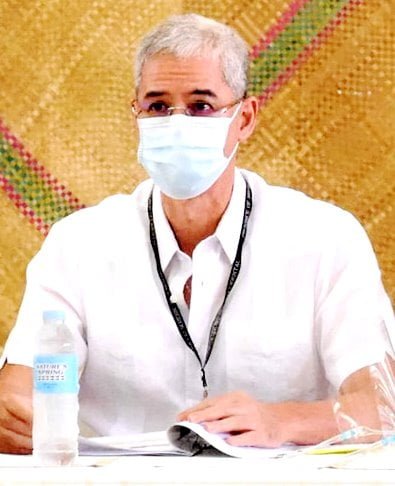 "I have not joined the bandwagon because, first of all, I don't know if Duterte can be president again. If he is the vice president, and there is vacancy (in the presidency), can he be president?"
Lacson wants the issues to be clarified before he decides to endorse the incumbent leader's bid for the second highest position of the country.
Twenty-four governors supported the resolution issued by the ruling Partido ng Demokratiko Pilipino-Lakas ng Bayan, urging Duterte to run for vice president in the 2022 elections.
In their collective statement, the governors said the administration's Covid-19 response is "succeeding", and they want the next president to be guided by Duterte, particularly in the fight against illegal drugs, and the prevailing pandemic.
The governors said they want Duterte to ensure that the programs he had started will be continued by the next president.
They also want Duterte to continue having a say in the implementation of infrastructure projects in the country.
They want him to have an influence in the implementation of the Supreme Court's Mandanas ruling that increases the Internal Revenue Allotment shares of local government units.
In Western Visayas, governors Arthur Defensor Jr. of Iloilo, Florencio Miraflores – Aklan, and Esteban Contreras of Capiz signed the PDP resolution, along with Daniel Fernando of Bulacan, Aurelio Umali (Nueva Ecija), Edgar Gadiano (Occidental Mindoro), Pepito Alvarez (Palawan), Edwin Ong (Northern Samar), Ben Evardone (Eastern Samar), Antonio Kho (Masbate), Abdusakur Tan (Sulu), Zaldy Villa (Siquijor), Bonz Dolor (Oriental Mindoro), Edgar Tallado (Camarines Norte);
Imelda Dimaporo (Lanao del Norte), Ryan Singson (Ilocos Sur), Dakila Cua (Quirino), Art Yap (Bohol), Bai Mariam Mangudadatu (Maguindanao), Suharto Mangudadatu (Sultan Kudarat), Damian Mercado (Southern Leyte), Michael Tan (Western Samar), Rogelio Espina Jr. (Biliran), and Victor Yu (Zamboanga del Sur).
Lacson, who belongs to the Nationalist People's Coalition, said the party has yet to meet and discuss plans for 2022. –MML