Negros Occidental Gov. Eugenio Jose Lacson, standard bearer of Love Negros, disclosed his plan to seek reelection in 2022.
And barring any realignment of political forces, it appears that Vice Gov. Jeffrey Ferrer, president of the United Negros Alliance, will be his runningmate.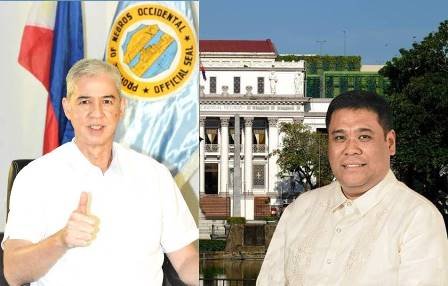 Under the law, the filing of certificates of candidacy for next year's polls, will be in October 2021 yet, but the coalition between the Love Negros and UNegA, which used to be rival political camps, are getting started early.
Ferrer earlier said that he will also seek re-election in tandem with Lacson.
"The challenge is to get the coalition (between Love and UNegA) to continue to work," Lacson said, adding that they are targeting to extend the coalition in the provincial level down to the local government units.
Love Negros has 18 mayors as members while UNegA has 13.
Lacson said the numbers do not matter to him "because we have a coalition".
He added that he is also ready to adjust in case there will be no face-to-face campaign during the 2022 elections.
"That's something we will have to adjust to if, indeed, they will implement it.
That's a lot of sense because when you do a house-to-house campaign practically there is no social distancing and the situation dictates that we will have to follow social distancing, Lacson said.
Commission on Elections spokesperson James Jimenez earlier said that face-to-face campaigning may be prohibited in next year's elections because of the pandemic.
If there will be no face-to- face campaign, Lacson said candidates are expected to adjust their campaign strategy, citing the possibility that candidates may resort to online campaigning. – GB