Dr. Sunny "Pin" Diego, an outstanding alumnus of the University of Negros Occidental-Recoletos in Bacolod City, won the Master 2 Light Featherweight Division in the American Open 2021 of the Jiu Jitsu World League, held in the Sahara Event Center in Las Vegas, Nevada, on May 1.
Dr. Diego trains at the Gracie Humaita Redlands in Redlands, California, that is about 63 miles east of Los Angeles. He also coaches at the academy, and is currently the chief executive officer of the company.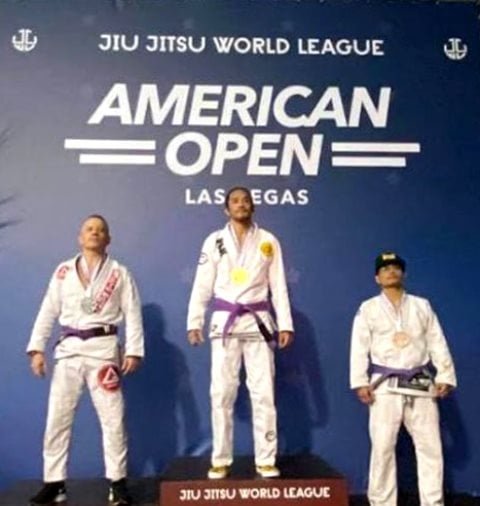 Gracie Humaita Jiu Jitsu is from the lineage of Grand Master Helio Gracie and is now managed and operated by his sons. Gracie Humaita Jiu Jitsu International is headed by the grandmaster's son, Master Royler Gracie.
Jiu Jitsu World League is a competitive Brazilian Jiu Jitsu Organization, and the American Open is one of the biggest tournaments of the League.
Dr. Diego is very loyal to his team and banner, and has been competing for them for years now.
Being a member of the John Maxwell Team, Dr. Diego believes that a true leader "Knows the way, Goes the way, Shows the way".
That is why he is working so hard, competing, and winning so that he can be an inspiration and be an example to follow and believe in. He wants to touch as many lives as he can through the art that he truly loves and the team that he is truly loyal to.
Dr. Diego is a Bacolodnon and a pride of Negros. He is one of the people who had put Negros Island on the map in the field of Brazilian Jiu Jitsu or martial arts.
No doubt that he is now the JJWL American Open 2021 Master 2 Light Featherweight Purple Champion forever. This gives glory and inspiration to the Filipino people through his craft.
Dr. Diego thanked his coaches, who trained him well, to earn his new title in the martial arts.
He also thanked his wife, Hannah, for being supportive of his passion for sports.
He encouraged others and his fellow Negrenses to follow their dreams no matter what as it enables one to enjoy meaningful success. – NND