From hearing you repeatedly say the "NOHS Golden Rule" during my first day of school (that all of us have memorized up to this day), to seeing you get teary-eyed over my graduation speeches several years later— I realized that you were always there for my big moments during the best six years of high school that anyone can ever ask for.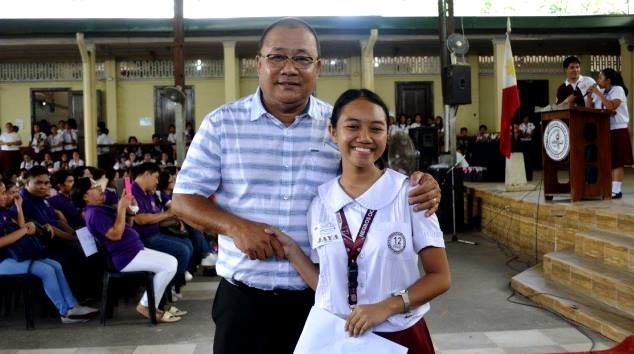 I'm glad that the best memories I had with you were captured in photos. The first one was after the last NOHS Fun Run I attended and helped out with. A local band was playing, and you went in front of the stage and danced crazily, laughing your heart out. Thousands of us danced and laughed with you, and everything felt all right.
The second one was during the World Teachers' Day that our SSG batch organized. I was in front of the stage, delivering a speech no one was listening to. You noticed this, so you stood up amongst a sea of students and teachers and made your way to the stage where I was. You borrowed the microphone I was holding, and you got mad at the audience because they weren't listening to me. When you gave me back the mic and went back to your seat, everyone's eyes were on me the whole time I was speaking. In a sea of a thousand people, I didn't hear any other sound except for my own voice.
Thank you, for standing up for me.
Thank you, for making me feel like I'm worth listening to.
Thank you, for telling me how proud you are of everything that I do. It meant so much to me then, and it still means so much to me now.
Madamo gid nga salamat. — NND
(The writer is a former president of the Supreme Student Government Negros Occidental High School. The article is her tribute to NOHS Principal Mario Amaca, who died October 6, 2021, weeks after recovering from COVID-19.)