Thirteen re-electionists and two Board Member aspirants in Negros Occidental, who are either affiliated with Love Negros or the United Negros Alliance (UNegA), filed their Certificates of Candidacy, by batches, before the Commission on Elections that temporarily holds office at the Provincial Capitol Social Hall in Bacolod City starting Oct. 1.
Newly-designated provincial Comelec supervisor, Atty. Ian Lee Ananoria, personally supervised Day 1 of the filing of COCs of candidates for the House of Representatives and the provincial level. It was described by observers to have gone smoothly, since the candidates religiously followed the mandated health protocols.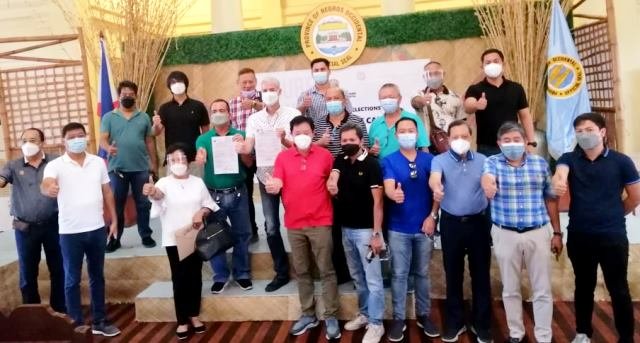 P/Lt. Abegael Donasco, deputy spokesperson of the Negros Occidental Police Provincial Office, said the COC filing all over the province was also peaceful, with no untoward incident reported by the different city and municipal police stations.
Donasco said they hope that this will continue until the last day of the COC filing on Oct. 8.
Reelectionist Gov. Eugenio Jose Lacson was accompanied by some Love Negros members when he and Rep. Gerardo Valmayor (1st district, Negros Occ), filed their COCs.
Reelectionist Vice Gov. Jeffrey Ferrer, UNegA president, and his wife, Rep. Juliet Ferrer (4th district) filed their COCs almost an hour after the group of Lacson left the Capitol Social Hall, to avoid overcrowding.
Jonry Gargarita of Brgy. Progreso, Binalbagan, tried to file his COC for vice governor but his documents were incomplete, so he was advised by Comelec to return as soon as he completes them.
First to file their COCs Friday morning were reelectionist BMs Andrew Montelibano and Manuel Frederick Ko, both representing the 3rd district of Negros Occidental.
They were followed by reelectionist BM Jose Benito Alonso (4th district) and BM aspirant Andrew Martin Torres, who is a third-termer councilor of Bago City.
Rep. Maria Lourdes Arroyo (5th district) also filed her COC, accompanied by her husband, John Lesaca. She was followed by former House deputy speaker Mercedes Alvarez-Lansang, who is making a comeback in politics.
Incumbent Rep. Genaro Alvarez (6th district) said he will give way to his daughter. Mercedes was accompanied by her husband, Army Maj. Dranreb Lansang, and her father, when she filed her COC.
Other reelectionist BMs who filed their COCs were Araceli Somosa and Rommel Debulgado (1st district), Jeffrey Tubola (6th district), and Samson Mirhan (2nd district).
BM aspirant Julian Gatuslao, nephew of BM Ernesto Agustin Bascon, who is running for mayor of Himamaylan City, also handed in his COC.
Reelectionist Rep. Jose Francisco Benitez (3rd district) is filing his COC on Oct. 5, while Sagay City Mayor Alfredo Marañon III, who will run for congressman of the 2nd district of Negros Occidental, has yet to announce on when he will file.
Fifteen candidates officially completed their COCs Oct.1. — GB