HIMAMAYLAN, now tagged as "The Awakened Dragon of the South", made remarkable progress since the start of Mayor Raymund Tongson's administration, from July 1, 2019 up to present.
Being the father of Himamaylan, Mayor Tongson upholds the future of his beloved land with its vision to be a leading City, bursting forth with zeal towards sustainable development along with a mission to provide fast, efficient, transparent, and quality public service to all.
This is an initiative that started years back when he was the youngest Vice Mayor of the then Municipality of Himamaylan, in 1998, pushing his limits in converting Himamaylan into a developing City that it is now. This made him the First Vice Mayor of the City of Himamaylan in 2001.
GOVERNANCE & COMMUNITY EMPOWERMENT
After being seated as Himamaylan's Local Chief Executive in June 2019, Mayor Raymund Tongson (MRT) worked hard in realizing the long awaited progress that the people of Himamaylan have been yearning for.
But less than a year back in public service, the coronavirus surfaced and confronted all nations.
In March 2020, MRT's leadership was put to test as the coronavirus started placing countries under national health emergencies while many communities were strictly quarantined. Instead of being threatened, MRT accepted the challenge in fighting a common invisible foe. He needed to be that living, breathing hope and courage. He needed to show all Himamaylanons that their City is a city that endures…that It Conquers.
Transforming Challenges to Opportunities, Mayor Tongson established a community based intervention program called #MRTExpress where MRT and Team reached out to various communities with the goal of better understanding and catering to their needs in a timely and flexible manner. Creating deeper involvement with his people, teams were dispersed even to geographically-isolated and disadvantaged areas to bring MRT's services closer to those who need it. MRT even initiated the formal organization of IP communities and make them part of the City Development Council, to promote understanding between ancient traditional peoples and modern civil society. It is also MRT's mission to utilize indigenous knowledge and global resources to promote economic prosperity.
MRT also ensured the implementation of several initiatives to attain good governance and guarantee community empowerment.
• Updating of the 6108 City Land Use Plan–City Development Plan, that is 80 percent completed, as of this writing.
• Conducted regular and special meetings with LGU department heads and employees for moderate to high LGU outputs, and enabled partnerships with national government agencies and non-government organizations resulting in many projects and programs granted to Himamaylan City.
• Took part in Galing Pook's Participatory Adaptive and Innovative Leadership for Peace and Development.
• Endeavored the Makati Business Club's Citizen Engagement and Digital Democracy Program; and maximized the participation of POs, coops and NGOs in all fronts and implemented capability enhancement programs to guarantee their proactive engagement, community involvement and sustainability as an organization.
• Facilitated task forces to address and maintain peace and order matters in various upland areas of Himamaylan.
• Facilitated the comprehensive availment of skills development training, sustainable livelihood assistance grant, employment grant, and project funding through various NGAs. Through the initiatives of MRT, the Department of Labor and Employment registered and accredited the Ituman, Magahat, Bukidnon Assosasyon sang Tiqui; Ituman, Magahat, Bukidnon Asosasyon sang Mahalang; Barangay Saraet Small Fishermen Association; and the Himamaylan City Hog Raisers Association that will receive P1 million in livelihood assistance grant each, through their Kabuhayan Program.
• Consistent increase in tax collection, increased aid to barangays P500K per year, strategic allocation of funds to prioritize and maximize the city's assets and LGU operations, especially at the peak of the COVID-19 pandemic.
These assets include 21 heavy equipment, 11 dump trucks, 2 rescue truck, and a payloader, amphibious cutter suction, hydraulic excavator, motor grader, pile driver machine, cutter suction and barge mounter, vibro roller, wheel loader, and 10 vehicles. Ongoing or on-process include 5 motorcycles, 5 dump trucks, and 8 mini dump trucks.
SOCIAL SERVICE PROGRAMS
MRT also guaranteed the extensive delivery of social services by dealing with one of the most pressing issues encountered during the pandemic – the inadequate supply of water. Through the establishment of a Water Source Survey Team in charge of the distribution of ram pumps with water filters, installation of community hand pumps, delivery of water supplies and equipment to water-scarce areas, the City was able to alleviate the overwhelming demand on the supply of water. The City was also able to construct water systems and rehabilitate existing but non-functioning water system all over Himamaylan.
Furthermore, MRT ensured the regular conduct of community bloodletting, sustained feeding program, sustained cleanup drives, electrification of main highways and interior barangays, concreting/asphalting and re-graveling of main and secondary roads, rehab of community markets, maximized the use of demo farm and livestock center, rehab of the slaughterhouse, establishment of functional waiting stations, rehab of state university and public school areas used for city and COVID facilities, suspension of market stall rentals, and health certificate payments.
Mayor Tongson's administration was transparent in the distribution of the Social Amelioration Program to over 19,929 families, and dispersal of 3,877 food packs during the Enhanced Community Quarantine period.
MRT was also successful in the distribution of assistive devices to PWDs, clustered national and local social pension payout, repatriation of OFW with ongoing talks for the establishment of Himamaylan City's OFW Migrant Desk for Balik-Bayanis, door-to-door awarding of nonagenarians and centenarians, increased burial assistance, Tupad employment opportunities, free skills training from TESDA, cash aid distribution to over 2,700 vendors all over the city from the Office of Sen. "Sap" Bong Go, and cash aid distribution to 3,308 typhoon Dante flood victims all over the City from the Office of Sen. "Sap" Bong Go.
Showcasing Hope and Resilience to all Himamaylanons, Mayor Tongson launched the #KMRTMRT: Kay MRT, May Regalo Ta online raffle promo, a community engaging monthly raffle program to lift up the spirit of his constituents in these trying times by giving out treats and surprises to the people of Himamaylan.
MRT also takes pride in his #MRTSupportsLokal advocacy by activating senior citizens, PWDs, women fisherfolk, youth, hog-raisers, and many more, producers and entrepreneurs within Himamaylan, thus creating a venue for them to promote and generate income from their outputs through the 6108.PH's Livelihood Ventures.
AGRICULTURE AND FOOD SECURITY
In line with establishing a sustainable economic cycle, MRT supported programs that promote agricultural development while securing job generation and increasing livelihood opportunities. He assisted initiatives in the aspect of agriculture and food security.
• Buying the local produce of Himamaylanon farmers and fisherfolk communities.
• Rehabilitated the City's demo farm.
• Developed the City's Treepark, where vegetables are planted and livestock/poultry animals raised, and distributed back to the community as added relief goods.
• Maximized the availment of machineries from the Department of Agriculture, and grants from DA's programs.
• Maximized idle city lands and converted these to rice, vegetable and corn farms.
• MOA with Assisi Foundation for IPs health, education and organic farming, and MOA with the DA's Urban Gardening Program to address the pressing issues on malnutrition in children and sustainable food source.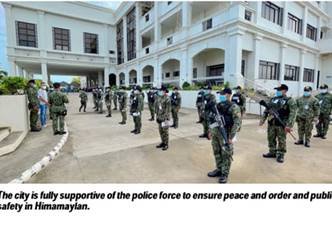 INFRASTRUCTURE, ROADS, OTHER STRUCTURES
Mayor Tongson's vision and mission is now in action, as the LGU is currently realizing the long overdue construction of the P190 million Punta Talaban Bridge that aims to connect Sitio Punta Talaban to Talaban Proper of Barangay Talaban that will surely benefit the Talabanon community and those in barangays Aguisan and Sara-et and the public in general.
MRT is also grateful for the P200 million worth of farm-to-market road construction projects that the City has been granted, and for the direct and massive assistance that the City has been receiving from President Rodrigo Duterte and Senator SAP Bong Go.
MRT takes a huge leap towards livable and highly dependable advancement with his P470 million Rivers and Coastal Rehabilitation Project, using the City owned dredgers designed to reclaim and restore riverways and coastal shorelines, inclusive of road concreting, construction of promenade and installation of streetlights.
"Desilting of rivers come with this program to protect us from the dangers of flooding like the destructive impact brought by the recent Typhoon Dante to our Himamaylanon community," MRT said.
He also puts emphasis on the activation of the Aguisan seaport with massive container yards to integrate global economic system and stir up socio-economic movement and benefits along with the construction of the city's esplanade to boost the tourism sector, employment cycle and local economy, for a better future for all.
The MRT-UREX Highway-6108 is a 40-kilometer road economic exchange highway with four bridges that will connect upland barangays Libacao, Cabadiangan, Carabalan, San Antonio, Mahalang, and Buenavista to provide easy access for agricultural products and promote eco-tourism The estimated proposed budget is P1.5 billion, with sources of funds from PRDP and the OPAPP/NTF-ELCAC.
Additional projects successfully implemented during MRT's first 2 years in service included the construction of a multi-purpose evacuation and command center in Barangay Talaban, P120M Carabalan, Himamaylan-Tayasan Road, P198M Punta Talaban Bridge connecting to Talaban Proper, port development and dredging/desilting of major rivers, completion of city-wide streetlights in Himamaylan's main highways, conversion of Old City Hall to Himamaylan City Cultural Arts Center, embankment project in Barangay III, 2.5 has. Build, Adequate, Livable, Affordable and Inclusive Filipino Communities in Brgy. Libacao DAR DSHUD, 100,000 Municipal/City Health Local Government Program;
P31M Regional Evacuation Center in Barangay III, P10M Barangay Nabalian Road Concreting, P20M Barangay Carabalan Support to Barangay Dev't Programs NTF-ELCAC, P84M Farm to Market Road, NGCP Footbridge in Barangay Cabanbanan, P14M LGSF City Hall Grounds Improvement, P16M LGSF Himamaylan Nat'l HS Oval Improvement, rehabilitation of the old slaughterhouse, P3M Ram Pump from Coke, senior citizens building, dialysis center, enhancement of city health office birthing facility and accreditation from 2-bed capacity to 10-bed capacity;
Rehabilitation of New Public Market, rehabilitation of the 542 Infantry Battalion 10 Active Base Firing Range to be upgraded to 18 Base Firing Range, rehabilitation/reconstruction of Primewater's Water System, Saraet TLDC, construction of health centers to prioritize geographically isolated and disadvantaged areas, comprehensive FMR road opening and concreting, construction of daycare centers, construction of multi-purpose buildings, rehabilitation of bridges and buildings, and landscaping.
ECONOMIC, TRADE, INVESTMEN, EMPLOYMENT
MRT proves the classic saying that, "If there's a will, there's a way", as he continues to encourage the entry of local and national investors in Himamaylan amidst the COVID-19 pandemic.
Through MRT's exhaustive campaign for potential partners to venture on Himamaylan's emerging development, the establishment of three banks in Himamaylan, namely the Landbank of the Philippines, BDO One Network Bank, and Producers Saving Bank Corporation, is just the beginning of the progress promised by MRT Express.
Major restaurants, such as Nena's Rose and Ting-ting's Native Food, are also set to open soon in Himamaylan and more commercial entities like Mercury Drug, POS Marketing, Yamaha, McDo, Puregold, Metro Gaisano, SM, and many more continue to express their interest in putting up their business centers in the City.
His administration is working on the establishment of a "One-Stop-Shop" with DOLE, BIR, DEPED, LTO, and HPG in one site for a more convenient transaction experience. The city also utilized DICT's Electronic Business Permit and Licensing System for Himamaylanon entrepreneurs, and transitioning into ATM payrolling for regular employees for a time-efficient payrolling system, hence, the Automated Teller Machine within the vicinity of the government center.
All these prove that the City is capable of creating real options for improved living conditions that will benefit all Himamaylanons.
Mayor Tongson is making room for more progress-enthusiasts to pool in and build more infrastructure projects and establishments to boost the city's economy.
MRT is Braving The Future. – NWI