Life as a public official is never easy with challenges coming from all directions. But what keeps Bacolod City Mayor Evelio "Bing" Leonardia standing is the support of his family, supporters, and the people who have helped him during the elections and even on regular days.
Leonardia thanked the people of Bacolod for their trust and confidence, and for being his inspiration, and to those who greeted him on his birthday on July 10.
"I would like to reach each and every one of you but I know that it is very difficult to do right now. I hope that even if I cannot reach you physically and individually, I am able to express my deepest appreciation and gratitude sa inyo pag tamyaw sa akon kag sa inyo pag inspire sa akon. You are all the reasons why I am happy and I am honored to be of service to our people," the mayor said.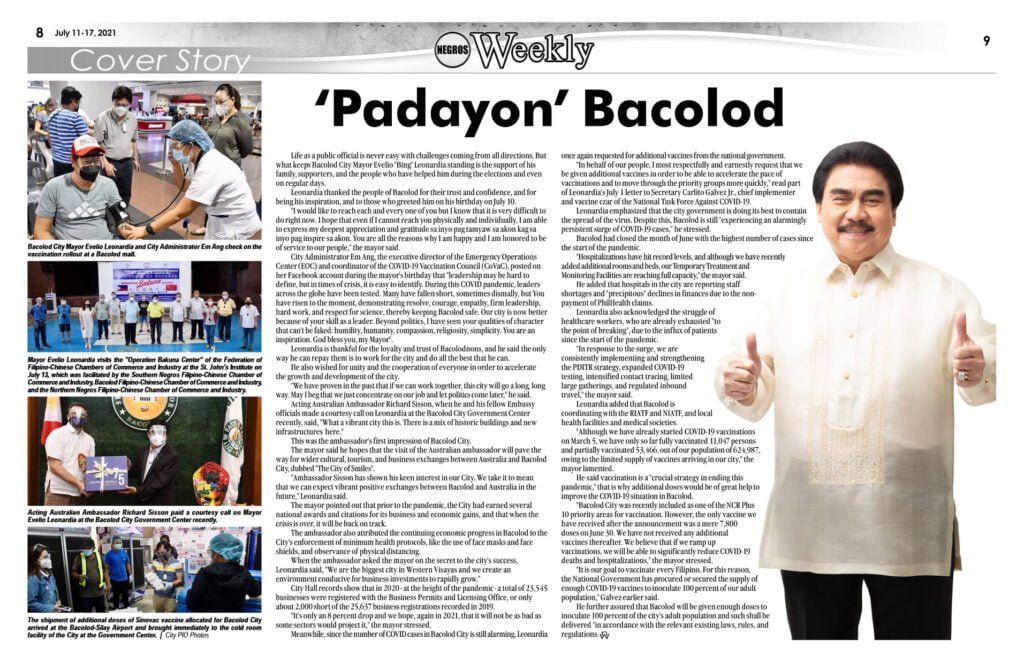 City Administrator Em Ang, the executive director of the Emergency Operations Center (EOC) and coordinator of the COVID-19 Vaccination Council (CoVaC), posted on her Facebook account during the mayor's birthday that "leadership may be hard to define, but in times of crisis, it is easy to identify. During this COVID pandemic, leaders across the globe have been tested. Many have fallen short, sometimes dismally, but You have risen to the moment, demonstrating resolve, courage, empathy, firm leadership, hard work, and respect for science, thereby keeping Bacolod safe. Our city is now better because of your skill as a leader. Beyond politics, I have seen your qualities of character that can't be faked: humility, humanity, compassion, religiosity, simplicity. You are an inspiration. God bless you, my Mayor".
Leonardia is thankful for the loyalty and trust of Bacolodnons, and he said the only way he can repay them is to work for the city and do all the best that he can.
He also wished for unity and the cooperation of everyone in order to accelerate the growth and development of the city.
"We have proven in the past that if we can work together, this city will go a long, long way. May I beg that we just concentrate on our job and let politics come later," he said.
Acting Australian Ambassador Richard Sisson, when he and his fellow Embassy officials made a courtesy call on Leonardia at the Bacolod City Government Center recently, said, "What a vibrant city this is. There is a mix of historic buildings and new infrastructures here."
This was the ambassador's first impression of Bacolod City.
The mayor said he hopes that the visit of the Australian ambassador will pave the way for wider cultural, tourism, and business exchanges between Australia and Bacolod City, dubbed "The City of Smiles".
"Ambassador Sisson has shown his keen interest in our City. We take it to mean that we can expect vibrant positive exchanges between Bacolod and Australia in the future," Leonardia said.
The mayor pointed out that prior to the pandemic, the City had earned several national awards and citations for its business and economic gains, and that when the crisis is over, it will be back on track.
The ambassador also attributed the continuing economic progress in Bacolod to the City's enforcement of minimum health protocols, like the use of face masks and face shields, and observance of physical distancing.
When the ambassador asked the mayor on the secret to the city's success, Leonardia said, "We are the biggest city in Western Visayas and we create an environment conducive for business investments to rapidly grow."
City Hall records show that in 2020 – at the height of the pandemic – a total of 23,545 businesses were registered with the Business Permits and Licensing Office, or only about 2,000 short of the 25,637 business registrations recorded in 2019.
"It's only an 8 percent drop and we hope, again in 2021, that it will not be as bad as some sectors would project it," the mayor stressed.
Meanwhile, since the number of COVID cases in Bacolod City is still alarming, Leonardia once again requested for additional vaccines from the national government.
"In behalf of our people, I most respectfully and earnestly request that we be given additional vaccines in order to be able to accelerate the pace of vaccinations and to move through the priority groups more quickly," read part of Leonardia's July 1 letter to Secretary Carlito Galvez Jr., chief implementer and vaccine czar of the National Task Force Against COVID-19.
Leonardia emphasized that the city government is doing its best to contain the spread of the virus. Despite this, Bacolod is still "experiencing an alarmingly persistent surge of COVID-19 cases," he stressed.
Bacolod had closed the month of June with the highest number of cases since the start of the pandemic.
"Hospitalizations have hit record levels, and although we have recently added additional rooms and beds, our Temporary Treatment and Monitoring Facilities are reaching full capacity," the mayor said.
He added that hospitals in the city are reporting staff shortages and "precipitous" declines in finances due to the non-payment of PhilHealth claims.
Leonardia also acknowledged the struggle of healthcare workers, who are already exhausted "to the point of breaking", due to the influx of patients since the start of the pandemic.
"In response to the surge, we are consistently implementing and strengthening the PDITR strategy, expanded COVID-19 testing, intensified contact tracing, limited large gatherings, and regulated inbound travel," the mayor said.
Leonardia added that Bacolod is coordinating with the RIATF and NIATF, and local health facilities and medical societies.
"Although we have already started COVID-19 vaccinations on March 5, we have only so far fully vaccinated 11,047 persons and partially vaccinated 53,466, out of our population of 624,987, owing to the limited supply of vaccines arriving in our city," the mayor lamented.
He said vaccination is a "crucial strategy in ending this pandemic," that is why additional doses would be of great help to improve the COVID-19 situation in Bacolod.
"Bacolod City was recently included as one of the NCR Plus 10 priority areas for vaccination. However, the only vaccine we have received after the announcement was a mere 7,800 doses on June 30. We have not received any additional vaccines thereafter. We believe that if we ramp up vaccinations, we will be able to significantly reduce COVID-19 deaths and hospitalizations," the mayor stressed.
"It is our goal to vaccinate every Filipino. For this reason, the National Government has procured or secured the supply of enough COVID-19 vaccines to inoculate 100 percent of our adult population," Galvez earlier said.
He further assured that Bacolod will be given enough doses to inoculate 100 percent of the city's adult population and such shall be delivered "in accordance with the relevant existing laws, rules, and regulations. – NWI