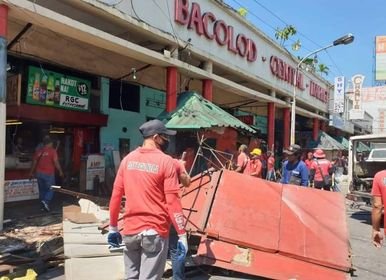 The City of Bacolod will implement partial road clearing operations starting Nov. 16 in response to a memorandum from the Department of Interior and Local Government.
DILG Memorandum Circular 2020-145 gives all local government units 60 days, from Nov. 16, 2020 to Jan. 15, 2021, to comply with the presidential directive to resume the clearing of roads of illegal structures and constructions.
"Partial implementation will be imposed in Bacolod while it is under GCQ," DILG-Bacolod City Director Ma. Joy Maredith Madayag said in a briefing for village officials held at the Government Center on Tuesday (Nov. 10).
Operations are limited to the actual removal or abatement of road and sidewalk obstructions that are considered dangerous to motorists and pedestrians, and road clearing for the purpose of establishing bike lanes.
Madayag said that the full implementation will be imposed once Bacolod is placed under modified general community quarantine, which requires LGUs to adopt all components of the road clearing operations.
"The continuation of the road clearing program is also part of our transition to the 'new normal' so we need to ensure that public roads do not have illegal obstructions and that they are kept safe from potential danger to citizens and the community," she added.
For his part, Mayor Evelio Leonardia directed officials of the city's 61 barangays to comply with the presidential directive on road clearing operations.
"The punong barangays must comply, otherwise they will face administrative sanctions from the DILG," Leonardia said.
He said the road clearing operations will put more order in the city streets. Clearing operations were suspended for almost eight months due to the coronavirus disease (COVID-19) pandemic.
During the initial validation in October last year, following the 60-day road-clearing operations, Bacolod obtained a compliance rating of 87 percent.
Figures released by the city government in January this year showed that some 11,517 illegal structures have been identified in all the city's barangays, of which 9,966 have been cleared. The remaining 1,551 include private properties and areas occupied by residents seeking housing assistance. – NLG