The P20,000 worth of pork products from Iloilo that were intercepted and seized at the Bredco Port in Bacolod City Oct. 15 and 16, were shipped back to its origin, Provincial Veterinarian Dr. Placeda Lemana said Monday, Oct. 17.
Negros Occidental is banning the entry of pigs, pork meat, and byproducts from Panay and Guimaras, following the detection of a suspected African swine fever case in Oton, Iloilo.
Lemana said the confiscated products included ground pork, pork tocino, and pork molo from Iloilo.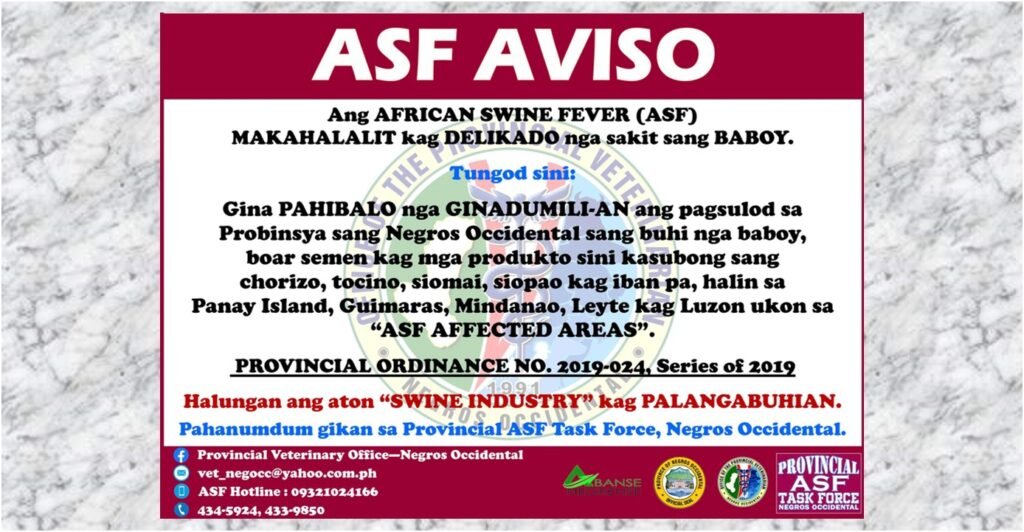 "Our quarantine inspectors are on high alert and are strictly inspecting all arriving goods through our ports and seaports," Lemana added.
The Provincial Veterinary Office quarantine inspectors are being reinforced by a team from the city government of Bacolod.
The province of Negros Occidental, a top backyard hog producer in the country, with an industry pegged at P6 billion, remains ASF-free for several years now.
In the past three years, Negros Occidental also prohibited the entry of hogs and pork byproducts from Luzon, Mindanao, and parts of the Visayas with ASF cases to protect the local industry.
Lemana assured anew that the province has surplus in terms of the supply of pork and chicken.
"So far, the supply and prices have remained in stable situation," she added./GB