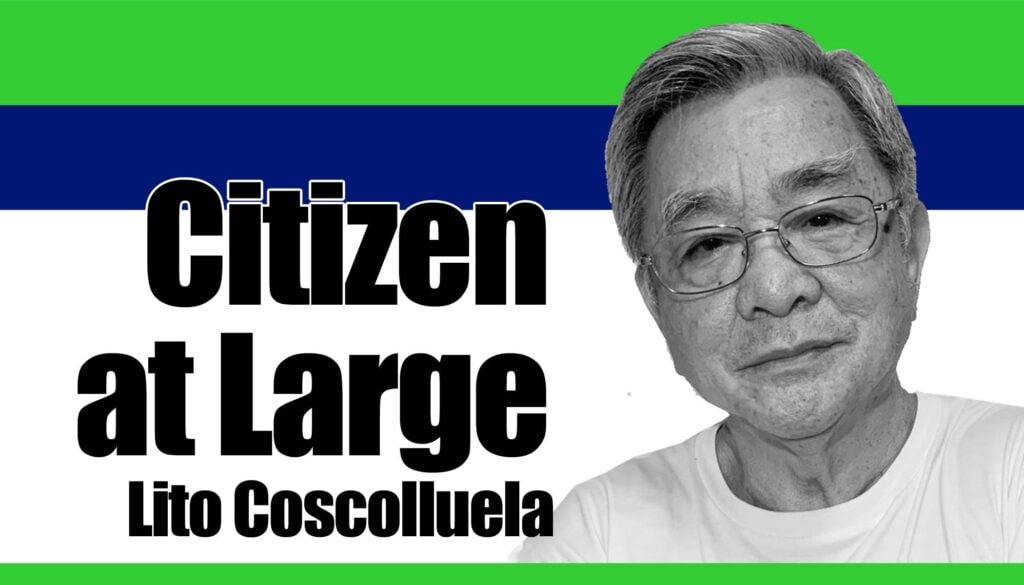 "​We've grown used to disasters, and maybe even proficient in disaster `preparedness and response'. With all the practice, how can we not be?"
I just viewed a short video of Vice President Leni Robredo surveying the destruction caused by super typhoon "Rolly" in Camarines Sur. The damage to the Sabang National High School, in a very sad sense, is nothing new.
What's ironic is that the school was an evacuation center for local residents. Roofs were blown away, ceilings collapsed and entire windows and doors were torn apart, exposing evacuees to the same danger they were trying to evade! It happens every year in typhoon-prone areas. Disaster strikes, relief operations are launched, rehabilitation work is undertaken, and then we hope it won't happen again. And of course it does.
​Same-same, except that this year, COVID-19 had already wrought unprecedented disaster on the entire country and brought the economy to its knees. National and local governments have expended billions to fight COVID, and not much is left to provide for relief and rehabilitation efforts in the Camarines provinces, in Catanduanes, Albay and Sorsogon, as well as in Batangas, Mindoro, Laguna, Cavite and other provinces in 12 regions struck by "Rolly". And even as government rolls out disaster response efforts, another typhoon (siony) is on the way.
​The scenes of disaster in other areas tell the same story. Flood-hit areas (some as high as neck deep) are a common sight, and hardly unexpected. Entire communities are dislocated, crops and properties lost, and even lives wasted. Communication systems are crippled, water systems disrupted, power distribution systems toppled or cut, depriving entire communities of vital services.
Roads and bridges are washed away, leaving affected areas isolated. Thousands of houses are destroyed, and millions of pesos in crops and livestock lost.
​We've grown used to disasters, and maybe even proficient in disaster "preparedness and response". With all the practice, how can we not be?
What are we really learning?
​First, disasters will keep coming, and they will get worse.
​Second, recurring disasters perpetuate poverty in disaster-prone areas.
​Third, government infrastructure, like public school buildings which are used as evacuation centers, are not very typhoon proof.
​Fourth, many populated areas are in high-risk locations (prone to flooding, landslides, storm surges, disease outbreaks or other calamities).
​Fifth, Climate Change is real, and we are to blame for it (some not as much as others).
Sadly, small countries like the Philippines are more likely to suffer from its effects than bigger and more developed countries. And sadder still, the developed countries contribute more to greenhouse gas emissions than we do.
​And the clincher: our agriculture is extremely vulnerable to severe weather disturbances.
So why aren't we getting smarter?
​Disaster response reports can sound impressive, especially when agencies report on disaster preparations, extent of damage, funds and resources available for "Quick Response" interventions and other actions like price control and food security measures undertaken by various agencies. But we hear very little thereafter about disaster prevention and mitigation strategies that will be cheaper in the long run than endless relief,
infrastructure repairs and rehabilitation of affected areas. Same-same. Nauubos ang pera, nandyan pa rin ang problema.
What else can be done?
​Not all areas will need the same measures, but we cannot afford to see the same problems recur on a regular basis. Many specific solutions are best left to LGUs, with assistance or in coordination with national government agencies. Here are some suggestions:​
First, government should review architectural and engineering standards for vital infrastructure, at least in disaster-prone areas. School buildings and other government facilities used as evacuation centers should be redesigned or retrofitted to fulfill certain basic criteria such as resistance to typhoons, non-exposure to flooding, landslide or storm surge risks, availability of potable water, sanitation and emergency power systems, and other standards such as those recommended by the UN Habitat for disaster-resistant architecture and climate-resilient communities.
Second, communities in disaster-prone areas need to be relocated, like some areas in Albay (apparently not all judging from reports that some communities around Mt. Mayon were buried in lahar and boulders). Areas regularly inundated by floods need flood control measures or outright relocation. Informal settler communities in urban areas – often bereft of potable water, sanitation, sewage and solid waste management systems as well as areas for recreation, worship or education, need to be decongested, redesigned or relocated to new, more livable settlements with opportunities for access to affordable housing and sustainable livelihoods. (Note: There is a reported severe backlog in socialized housing and very limited budgetary allocation for the same.) Congestion makes social distancing near impossible; lack of washing stations and proper sanitation invites the spread of infectious diseases like Covid19.
Third, agriculture – the lifeblood of our economy and the only sector that recorded positive growth this year – must be "protected" (some say at all cost) in order to ensure food security and rural development. This calls for measures to enhance productivity, attain climate resilience, ensure sustainability and allow for inclusiveness. These measures include climate-smart cropping calendars, irrigation systems development, effective extension services, farm mechanization subsidies, the promotion of good agricultural practices (GAP) and organic farming, policies and programs to reduce import dependence, protect watersheds and biodiversity, and reduce dependence on high-input, high-carbon footprint and import-dependent agritechnology that enriches multinationals and holds farmers captive to chemical-intensive systems.
Fourth and last, public utilities like power transmission and distribution systems and telecommunications facilities, and public infrastructure like roads and bridges, need to be typhoon-proofed as well to minimize power and telecommunications outages and physical isolation of affected communities.
A nation in constant need of fixing
I haven't done the research, but it's not difficult to imagine how much we spend on disaster management, particularly relief and rehabilitation operations. The truth is ever so apparent: We are constantly in need of fixing. What we need on top of Disaster Preparedness, Relief and Rehabilitation, is a Disaster Prevention mindset.