Hundreds of motorcycle riders and supporters of former senator Bongbong Marcos (BBM) joined the caravan in Bacolod City and Negros Occidental Nov. 21, in support of his presidential bid in the May 2022 elections.
The vehicles, with red and green flaglets, assembled in front of Ayala Mall Talisay for those coming from the north, and at Manville Subdivision in Barangay Tangub, Bacolod, for participants from south Negros.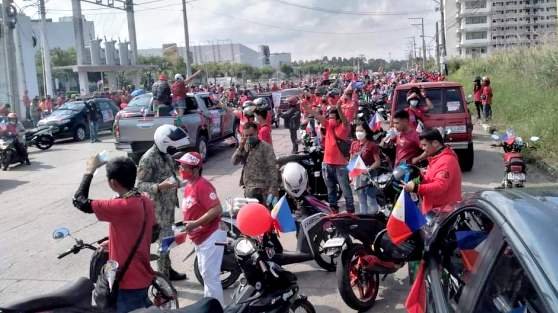 The caravan passed through major streets of Bacolod City and converged at the Pope John Paul Tower at the Bacolod Reclamation area, where a short meeting was held.
John Benneth, a volunteer of the Silent Majority BBM 2022, said their group "is a people's initiative volunteers' movement and a non-profit organization formed solely to converge, consolidate, facilitate, and unify the cry of the silent majority who aspires to make the nation great again through the grassroots participatory governance in the coming election."
The caravan was the result of a weeklong plan to show support to Marcos and Davao City Mayor Sara Duterte-Carpio, who was adopted as BBM's vice presidential candidate.
"This is also to show that Negros Occidental is ready for the Marcos-Duterte tandem," he added.
The Silent Majority BBM Negros Occidental, on a social media post, said that this first activity aims to create awareness and empower the grassroots electorates in choosing their candidates.
The group called for vigilance over "the intramurals of political operators serving their interests and of political campaigns, including mudslinging, bickering, false promises, deceit, and lies".
They also encouraged more volunteers to join the crusade in making the country great again, starting with the right step, which is a people's participatory governance. — MML