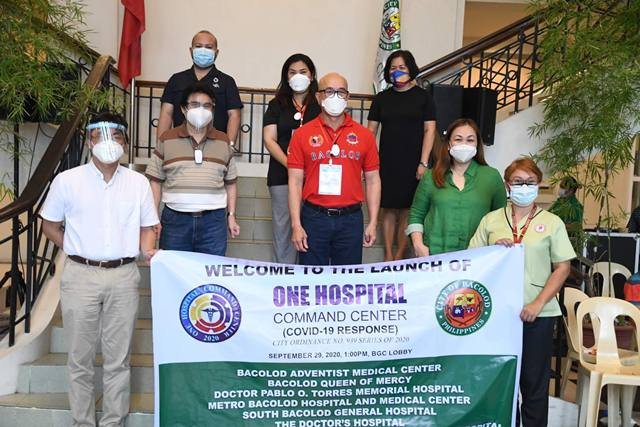 Admission of coronavirus disease 2019 (Covid-19) patients in Bacolod City has steadily decreased as confirmed cases went down in the past several weeks, data released by the Emergency Operations Center (EOC) showed.
On Wednesday (Oct. 21), the EOC's One Hospital Command Center (OHCC) reported a 56.01 percent capacity utilization rate (CUR) in seven hospitals in the city, which is almost the same as the 55.43 percent CUR the day before.
These figures are much lower than the 58.51 percent CUR recorded on Oct. 19.
Discussing the data released on Oct. 19, Dr. Hector Gayares, EOC deputy for medical services, said that of the 197 beds available, 115 are occupied by patients, leaving 82 beds still available for Covid-19 admissions.
He added that the 115 patients include 51 from Bacolod, which is 44 percent of the total, while the remaining 64 patients or 56 percent are all from various towns and cities in Negros Occidental.
Gayares pointed out that way back in Sept. 26, patients from Bacolod still comprised about 76 percent of those admitted in hospitals.
"Today, we have only 44 percent, meaning to say the admission of patients coming from Bacolod City is going down," he said.
Gayares also noted that on Sept. 10, the CUR was still at 91 percent. It eventually decreased to the 70 percent level by Sept. 30 and still went down to 67 percent by Oct. 7.
"It follows that when the number of cases of goes down, the CUR in the hospitals definitely also goes down," he said.
Retired Maj. Gen. Melquiades Feliciano, chief implementer of the Inter-Agency Task Force (IATF)-Visayas, said that when he first came to Bacolod on the last week of August, the CUR was at 99 percent.
At that time, only 101 hospital beds were available, but when the OHCC was eventually launched in September, the number increased to almost 200.
Feliciano said that adopting the OHCC has resulted in decongestion of Covid-19 patients in hospitals.
Included under the OHCC are the Bacolod Adventist Medical Center, Bacolod Queen of Mercy Hospital, Dr. Pablo O. Torre Memorial Hospital, Metro Bacolod Hospital and Medical Center, South Bacolod General Hospital, The Doctors' Hospital, and Corazon Locsin Montelibano Memorial Regional Hospital. NLG