The Bacolod City Health Office Wednesday declared a cholera outbreak in Barangay Mandalagan, after water samples taken from two dug wells in two puroks yielded positive for vibrio cholera bacteria.
The samples, collected by the Bacolod City Epidemiological Surveillance Unit and sent to the Research Institute for Tropical Medicine as part of a surveillance activity, were taken from dug wells in puroks Luhod-luhod and Ipil-ipil, and found positive for the cholera bacteria, CHO officer-in-charge, Dr. Grace Tan, said in Health Advisory 2 dated Nov. 23.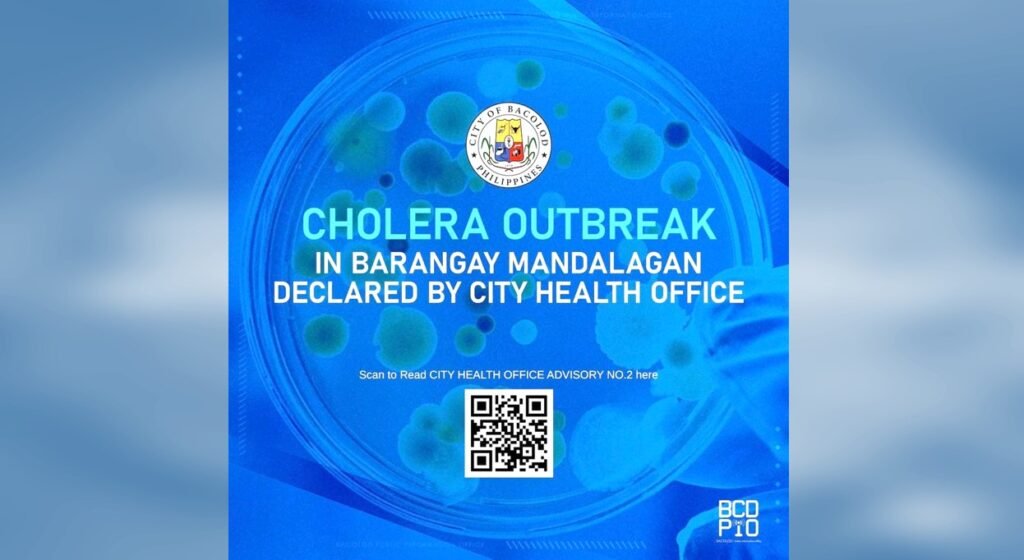 Tan also noted that two positive cases of cholera infection were recently logged in Purok Luhod-Luhod. Mandalagan also reported 17 Acute Gastroenteritis, as per the Sept. 1 to Nov. 12 report of the CHO.
Disinfection and chlorination activities were done in Purok Luhod-Luhod, and households received water container gallons from the Disaster Risk Reduction and Management Office as one way to discourage the reuse of old and worn-out water containers in storing drinking water, which could lead to contamination.
"Cholera is caused by ingesting water or food that has been contaminated by the cholera bacterium, causing the infected person to suffer from severe diarrhea and vomiting," Tan said.
On Oct. 25, the CHO also declared a cholera outbreak in Barangay Alijis, after three positive cases and an increasing cholera infection were noted.
The declaration is pursuant to Republic Act 11332, which provides the policies and procedures on the surveillance and response to notifiable diseases, epidemics, and health events of public health concern.
Meanwhile, the Sangguniang Panlungsod approved a resolution Tuesday requesting Mayor Alfredo Benitez to convene the Local Water Supply and Quality Monitoring Council, pursuant to City Ordinance 08-14-668, series of 2014.
Councilor Kalaw Puentevella, who authored the resolution, "all concerns on water issues can be best addressed with a functioning water supply board, thus enhancing the efficient and effective delivery of basic services."
CO 08-14-668 provides that the Water Supply and Quality Monitoring Council will monitor, analyze, and regulate all sources of water so that they are safe and fit for human consumption all the time.
Puentevella, chairperson of the SP Committee on Health, stressed the need to convene the Council "to formulate policies concerning the implementation of water supply and quality monitoring program to address water quality issues in the City of Bacolod."/CGC