Seventy-seven barangays in the province of Negros Occidental and one in Bacolod City that were declared cleared from communist terrorist group (CTG) under the Retooled Community Support Program ( RCSP) of the Department of the Interior and Local Government Region 6.
As part of the support services, the DILG handed over to the eight mayors where the 78 barangays are located television sets and modules as media materials to continue the information dissemination program to encourage residents to learn about the programs of the local and national governments.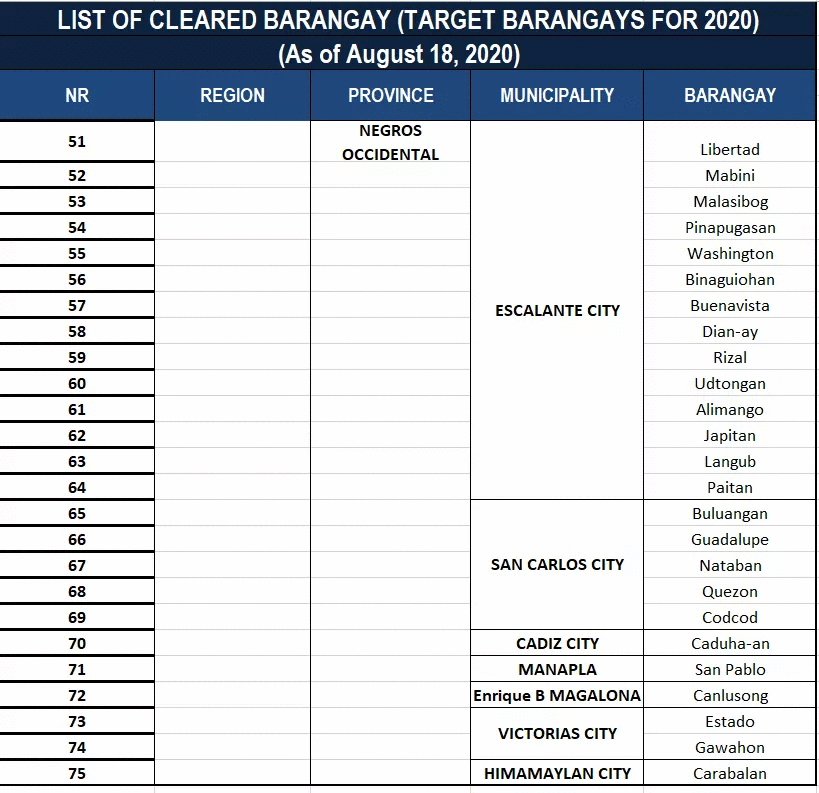 The turnover was held Wednesday at L'Fisher Hotel in Bacolod City during the launching of the RCSP TV Aralan Series of the DILG.
DILG 6 director Juan Jovian Ingeniero said the agency, in partnership with the Armed Forces of the Philippines and other concerned agencies will continue to evaluate barangays that were once under the influence of CTG but had since established strong anti-insurgency programs and projects.
The program, under the RCSP, is in keeping with Executive Order 70 signed by President Rodrigo Duterte in 2018, creating Task Forces to End Local Communist Armed Conflict (TF-ELCAC).
Ingeniero also told participants at the turnover ceremony to strengthen the campaign in making their barangays drug free.
He said that more than 60 percent of the 4,050 barangays of Western Visayas have been declared drug free. In Negros Occidental, only 207 of its 601 barangays, or 30 percent, were declared cleared of illegal drugs.
Ingeniero added that most of the barangays in Negros Occidental failed to implement a community-based rehabilitation program, that is one important benchmark in declaring an area as drug-free.
He said he understands the plight of barangay leaders in establishing community-based rehabilitation during the pandemic and suggested that members of the Barangay Drug Abuse Council discuss with their city or municipal health officer on how to establish the program. – MML