Six routes in Bacolod City have been awarded with 97 modernized jeepneys, with 30 units blessed and distributed in a ceremony held at the Ayala Malls Capitol Central Jan. 23.
Five units each were turned over and will start plying the routes Shopping-Libertad-USLS, Shopping-Libertad-San Agustin, Handumanan-Mansilingan-Libertad, Tangub-South Capitol Road, Taculing-Central Market, and Banago-Libertad, as per the Local Public Transport Route Plan (LPTRP) of Bacolod, under City Ordinance No. 966.
The routes will be operated by the United Negros Transport Cooperative (Unetco), which is composed of drivers and operators under the United Negros Drivers and Operators Center, Federation of Bacolod Drivers Association, and Sentrong Samahan ng Tsuper at Operators Negros Occidental.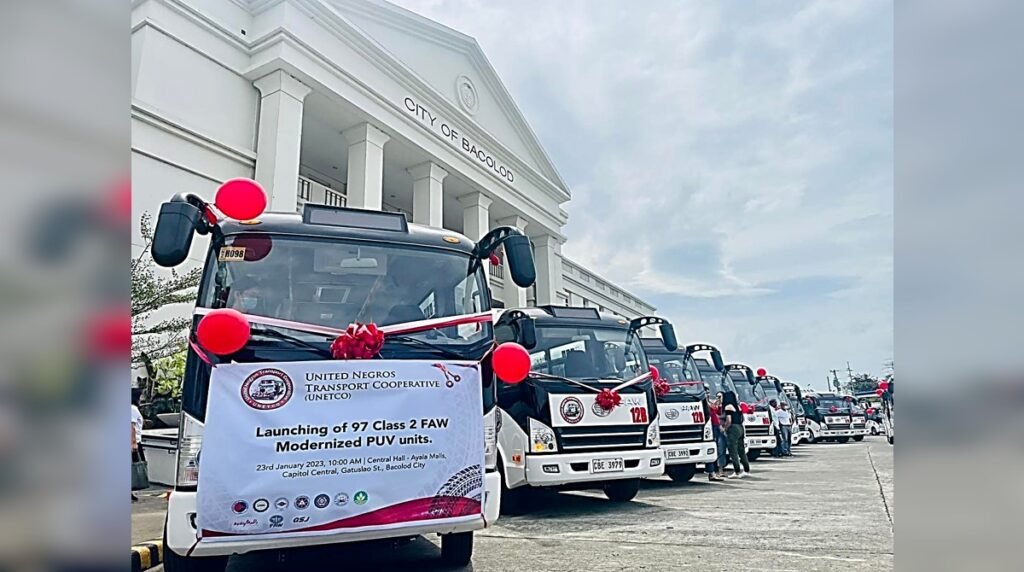 The cooperative will operate a total of 293 modernized jeeps in the city, the Bacolod PIO said in a press release Tuesday, adding that the former is currently installing a fleet management system to the units so as to monitor their operations.
The mall management said on its Facebook post that modern jeep units from Barangay Tangub will pass by the mall starting today, Jan. 25.
Councilor Psyche Marie Sy, who was at the blessing and launching Monday, and delivered the message of Mayor Alfredo Benitez, said the local chief executive "expresses his full support and heartfelt gratitude for this pursuit for modernization…"
"It is great to see more modernized jeepneys on the road. It's time for Bacolod, a highly-urbanized city, to be a model for clean and efficient transportation," Sy added.
There are 203 modernized jeepneys plying the streets of Bacolod, and 155 more units will be launched by February, the Land Transportation Franchising and Regulatory Board said.
LTFRB6 director Richard Osmeña said "the launching of the 97 modernized jeeps delivers a strong signal of courage and decisiveness of those who opted to take the challenge of public transport.
"Slowly but surely we are showing the public that our partnership among the local government, the transport operators, and the LTFRB office is strong and working tirelessly to make transport modernization a reality" he added.
Under the LPTRP, Unetco has been awarded a total of 16 units for its Shopping-Libertad-USLS route; 18 units each for the Shopping-Libertad-San Agustin, and Handumanan-Mansilingan-Libertad; and 15 units each for the Tangub-South Capitol Road, Taculing-Central Market, and Banago-Libertad route, or a total of 97 Class 2 modernized public utility vehicles.
As per the PUV Modernization Program of the Department of Transportation, a Class 2 PUJ can carry 22 and allows for standing passengers.
The LTFRB6 also recently received applications for 10 units of Class 2 PUJ to operate the Paglaum Village-Libertad Loop, 10 units for the Alangilan-Burgos route, 13 for the Doña Juliana-Central Market Loop, another 10 units for the Bredco Port-Northbound Terminal via San Juan Street Loop, and 10 units for the Pahanocoy (Cegasco)-Bacolod Government Center via Circumferential Road Loop./CGC