Thirty Negrenses, who comprised the fifth batch of Dualtech Scholarship Program grantees, are bound for Laguna in January to study Electro-mechanics Technology course for two years at the Dualtech Training Center Foundation Inc.
The scholars are out-of-school youth from the cities of Sagay, Bago, Himamaylan, La Carlota, and Sipalay, and the municipalities of Isabela, Calatrava, Toboso, and Hinigaran.
The two-year course covers basic industrial skills, such as mechanical, electrical, electronic, and drafting while their spiritual, emotional, and personal growth will be harnessed to ensure that they are ready for their 18 months in-plant training, after six months of intensive classroom-based education.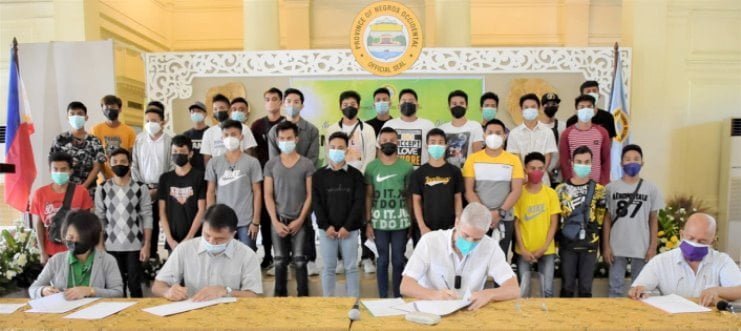 The provincial government of Negros Occidental, led by Gov. Eugenio Jose Lacson, and Buglas Foundation Inc., represented by Roger Sarmiento and Felipe Espinosa, signed the memorandum of agreement with the 30 scholars at the Provincial Capitol in Bacolod City Nov. 8.
Espinosa and Sarmiento advised the scholars to always be courteous and polite in dealing with their fellow students and instructors because they are carrying the name of the province of Negros Occidental, a press release from the Capitol said.
Karen Dinsay of the Negros Occidental Scholarship Program Division presented the rationale of the program, and said that a number of scholars from batches 1 to 3 were absorbed by their respective companies in Luzon and are currently under probationary status even before their graduation.
Board Member Tinto Bascon, chairman of the Sangguniang Panlalawigan Committee on Education, said in a message that he is always glad to support the governor, especially because the program benefits the underprivileged youth and their families.
Lacson thanked the Buglas Foundation for their solid support to the development and growth and well-being of the Dualtech Negrense scholars.
He urged the scholars to focus on their studies so that they will be able to build and achieve their dreams someday.
He added that the provincial government will continue to be responsive to the needs of the Negrense youth as long as they are determined to study and work hard to improve the quality of their lives. — NND