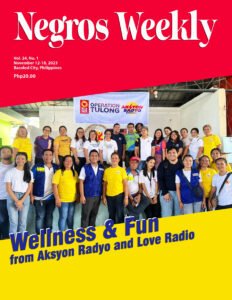 Around 700 individuals received free medical check-ups, medicines, snacks, and merchandise during the nationwide launching of Operation Tulong in Barangay Calumangan, Bago City Nov. 11.
Through its Wellness and Fun Activity, residents of Barangay Calumangan and its adjacent barangays enjoyed various activities organized by the Manila Broadcasting Company, Aksyon Radyo Bacolod, and Love Radio Bacolod.
Village Councilor Jelyn Acol expressed her utmost gratitude to the organizers for choosing Barangay Calumangan as the venue of the Wellness and Fun activity.
Acol said it was the first time in their village that a big event, like this combined medical mission, Zumba, raffle, games, and other recreation activities, was held.
The Wellness and Fun started with a Zumba exercise at 6 a.m., followed by a medical mission at 7:30 in the morning.
According to Veronica Castro, 79 years old, and a resident of Barangay Calumangan, Bago City, this is the first time that she underwent medical consultation.
Castro is glad to have received free medicines for her maintenance from Aksyon Radyo Bacolod and Love Radio Bacolod.
Following the medical mission, residents enjoyed the games, activities, and raffle prepared by the organizers.
On the same day, 26 other areas in the Philippines simultaneously launched Operation Tulong.
Operation Tulong serves as the official community engagement activities of all MBC stations nationwide. ||