The cities of Sagay and Bago in Negros Occidental brought honor to the Philippines during the Green Destinations Awards at the ITB Berlin 2023, after being recognized for their inspirational sustainable tourism practices and efforts.
The Tourism Promotions Board (TPB) Philippines, the marketing and promotions arm of the Department of Tourism, said March 8 that Sagay City bagged the People's Choice Award and ranked second under the Nature and Scenery category with its entry, "Mangrove Forest Protection through Community-based Eco-Tourism Project".
Negros Occidental 2nd District Rep. Thirdy Marañon and Sagay City Vice Mayor Leo Rafael Cueva, on behalf of Mayor Narciso Javelosa Jr., received the award together with City Tourism Officer Helen Cutillar.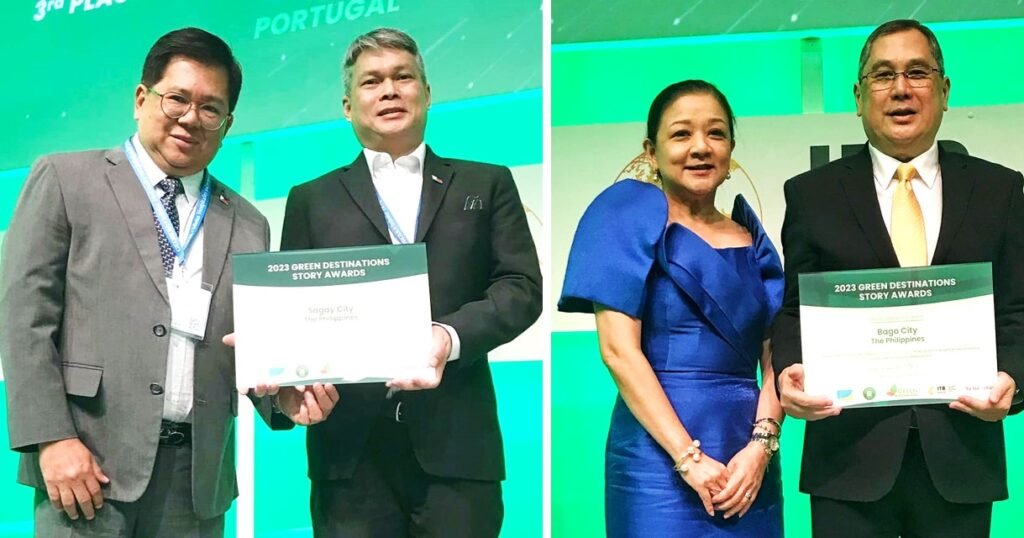 Bago City's entry, "Reviving the Majestic Diversity of Bago Watershed", on the other hand, placed third among the finalists under the Environment and Climate category.
The category covers good practice stories that tackle climate crisis, adaptation and mitigation measures, reduction of single-use plastic, and waste pollution, the city said in a statement.
Mayor Nicholas Yulo, who received the award in rites held in Berlin, Germany March 7 along with his wife, Jeanne Louise, and other officials, said this is an honor for the city.
This sustainable leap is an affirmation of the strong efforts and collaboration of the local government of Bago, its stakeholders, and constituents in environmental conservation as well as achievement of the United Nations Sustainable Development Goals and responsible destination management and climate action, Yulo said.
"This distinction is the sum of all the efforts put in by the men and women of the local government, the trust and support of Bagonhons, and the internal and external environmental and tourism stakeholders," the mayor added.
These institutionalized "green" programs are among the brands in good governance in his and Vice Mayor Ramon Torres' administration, Yulo said.
Green Destinations is a global non-profit organization based in the Netherlands to support sustainable destinations, their businesses, and their communities. The annual event acknowledges and celebrates the most inspirational initiatives for sustainable tourism development from stories submitted to the yearly Green Destinations Top 100 Stories competition, the city said.
Last year, Bago's watershed revival program and Sagay's mangrove conservation efforts were also among the Green Destinations Top 100 Stories.
DOT Secretary Christina Garcia Frasco, meanwhile, is leading the Philippines' biggest delegation to the Internationale Tourismus-Börse (ITB), the world's largest travel and tourism trade fair, being held this year at the Messe Berlin in Germany, until March 9.
The Philippine contingent to this year's ITB consists of 27 co-exhibitors from the public and private sector, with 43 delegates attending the event, the TPB said in a statement.
"Our participation is pursuant to further positioning the Philippines as a tourism powerhouse in Asia, and hopefully, the world in the years ahead," Frasco said, adding that the ITB attendance "will help fast-track the recovery efforts by the DOT of the pandemic-hit industry."
The Philippines' participation at the ITB Berlin aims to strengthen the country's global tourism campaign through partnership opportunities with various tourism private sectors, including tour operators, online travel agencies, new online distribution platforms, travel websites and communities, journalists, and influencers, among others./CGC