Retrieval operations are ongoing for the two remaining fishermen believed trapped inside their fishing vessel that sank early Friday morning in the waters of Gigantes Island, between Carles, Iloilo and Northern Cebu.
Divers of the Philippine Coast Guard, the Cadiz City Disaster Risk Reduction and Management Office, and other concerned rescue groups recovered the bodies of two more fishermen early this morning, including that of Frank Chavez, the captain of the ill-fated FV St. Peter the Fishermen II of Tri Star Fishing.
The bodies of fishermen Norberto Parlotzo and Rommel Engle were retrieved Saturday, Victor Calvo, Julit Salvo, and Herminio Romano were recovered Sunday, while Chavez and Renante Forsuelo were found this morning.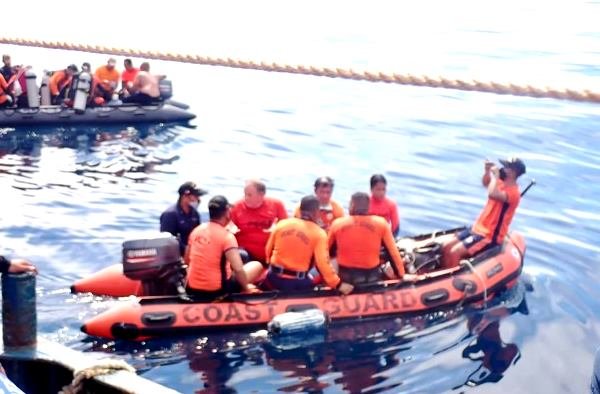 The PCG team, headed by Capt. Jansen Benjamin, is still in the area to search for Manuel Auditor and Julian Dungog inside the shipwreck found 44 meters deep from the water surface.
A sister vessel from Tri Star Fishing Corporation, the FV Old Man and the Sea, rescued 22 of the 31 beleaguered fishermen Friday, and docked at the Cadiz City Commercial Port in Barangay Banguerohan, Cadiz, past 4 p.m. Sept. 24.
Cadiz City Health Office personnel examined and treated the survivors, before they were transported to their respective homes on board a vehicle from the city government.
Second Mate Pablito Desamparado, one of the survivors, told the PCG that they were fishing at about 1 a.m. Friday in the waters of northern Cebu when they experienced heavy gusts of wind and large waves, that caused their vessel to list to port (left side) and sank.
Meanwhile, the bodies were brought to the Cadiz City Commercial Port, and the fishing company based in Cadiz attended to the needs of the families of the fishermen. — MML