The first shared lab for Computer-Delivered International English Language Testing System (CD-IELTS) test in the Visayas was launched at the Negros Occidental Language and Information Technology Center (NOLITC), Negros First CyberCentre in Bacolod City Sept. 22.
In partnership with IDP Philippines, an Australian-listed global leader in international education services, the shared laboratory is a milestone for the provincial government of Negros Occidental, NOLITC vocational school administrator, Ma. Cristina Orbecido, said.
Orbecido said that the Capitol, which manages the NOLITC, is the first government partner of IDP in the Philippines.
She said that the shared facility, the sixth nationwide, aims to provide access, not only to Negrenses but to residents in the Visayas, who want to study, work, or migrate in Australia or in other countries that require language proficiency.
"The IDP-NOLITC IELTS Shared Lab allows test takers to book their IELTS test at the venue, have access to numerous test preparations and review materials, and take IELTS on computer," the IDP said.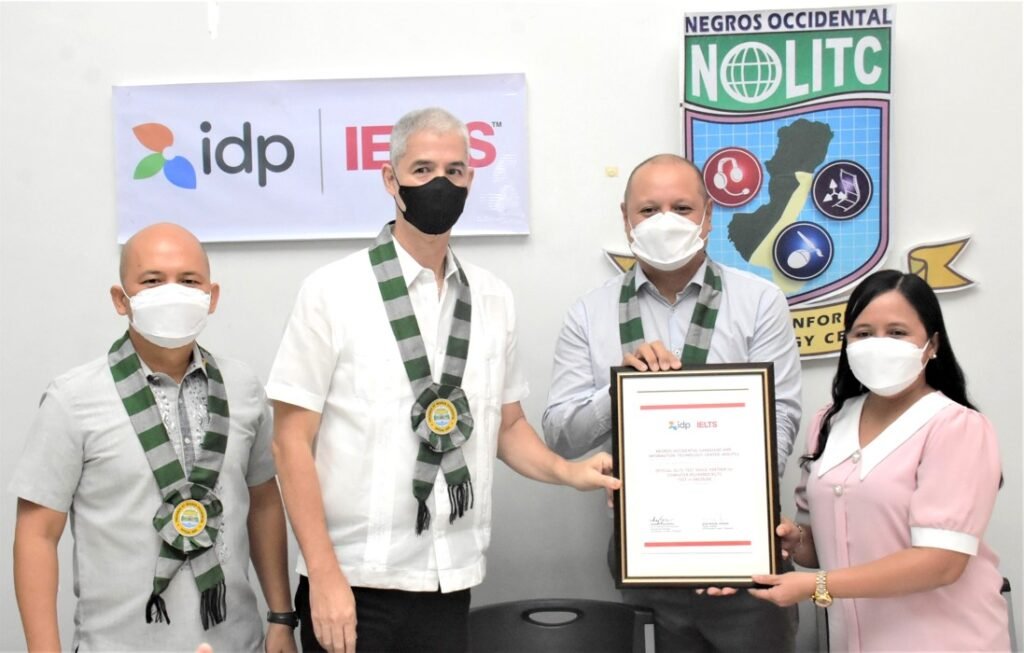 IDP Philippines country director Jose Miguel Habana said the CD-IELTS gives clients the option to type on the computer instead of writing on paper, allows them to complete the entire test in a day, and with faster results released in three to five days.
IELTS on computer uses both expert testing specialists and digital technology to empower test takers to achieve their best result. "We are innovating our test. IELTS on computer offers a convenient way of completing the Reading, Listening and Writing parts of the test using a computer, together with the Video Call Speaking (VCS) test with an IELTS examiner, allowing test takers to complete the entire test in only one day," he added.
He said their company noted an increasing number of test takers year on year. "Last year, over 300 Negrenses took the IELTS test with IDP."
He said an IELTS test fee is about P12,000, and most takers are nurses bound or looking for employment in English-speaking countries.
"With the help of NOLITC, we will do our best to empower our customers to achieve the best score," Habana said, adding that IDP will continue to expand its footprint in key cities of the Philippines, and make their study-abroad services closer to the market. IDP has more than 1,500 IELTS test locations across 56 countries.
He added that more than three million IELTS tests are administered each year and the results accepted by more than 11,000 organizations in over 140 countries, including universities, schools, training colleges and tertiary institutes, government departments and agencies, professional and industry bodies, and companies and employers.
Negros Occidental Governor Eugenio Jose Lacson said he is proud to open the first shared lab in the Visayas, and lauded NOLITC and IDP for this initiative.
"This development, which makes IELTS more accessible, will greatly aid Negrenses and those from nearby provinces, in the pursuit of their study, work, or migration goals," he said.
Lacson said education remains as the top priority of the provincial government. "We will continue to expand our education related programs to make them more inclusive and accessible to all sectors, particularly the underprivileged."
He thanked NOLITC for its pioneering initiatives to aid Negrenses as they tread their career paths and options.
Meanwhile, Provincial Administrator, Atty. Rayfrando Diaz II, stressed a "100 percent support to NOLITC because it is a good performing division of the province."
He said construction of its global campus in Talisay is ongoing as Capitol wants better, safer, and happier working and learning spaces for personnel and students./CGC