Amid alleged adverse reactions on European patients inoculated with AstraZeneca, the Province of Negros Occidental will continue its purchase of 100,000 doses of the same brand in its fight against Covid-19.
Dr. Ernell Tumimbang, provincial health officer, made the disclosure, adding that he met Tuesday with the AstraZeneca medical director, who promised that the company will come out with its findings on alleged thrombo-embolic cases which some European countries tied to the brand.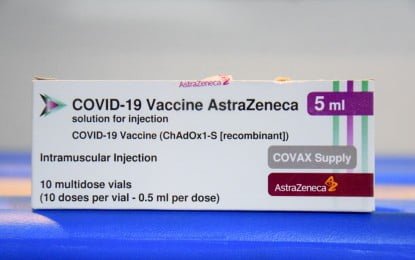 The province still hopes that the adverse reactions reported by other countries will not happen to Filipinos.
Tumimbang said a number of senior citizen-frontliners in the Negros Occidental have already received the vaccine since Saturday, and the PHO no report of any adverse reaction from them.
Since AstraZeneca vaccine is the only brand available for 60- years-old-and-above, it's worth the risk to take it as there is no other choice for them, he said.
"We cannot do away with using AstraZeneca since we have seniors to address in our vaccination program," he added.
The provincial government placed an order for AstraZeneca worth P27.5 million at the beginning of the year.
The 100,000 doses are good for 50,000 residents to include provincial government employees.
The rest will be distributed to the different local government units this is aside from the allocation expected from the national government, Tumimbang said.
He added that the province has rolled out its vaccination plan last week and most medical frontliners received Sinovac vaccine and only 20 were inoculated with AstraZeneca.
He reiterated not one of them reported complained of any adverse reaction.
The province is expecting its order of AstraZeneca vaccines in July 2021.
The Provincial Emergency Operation Center hopes that it will also coincide with the arrival of the vaccines from the national government so that Capitol can have simultaneous vaccination with the hope that the province would be able to achieve herd immunity faster.
Last Tuesday the Bacolod City government also committed to continue its purchase of 650,000 doses of AstraZenaca vaccines after listening to the explanation of company representatives.
It has made an advance payment of P31 million for its order but no delivery has been made yet. – MML