MITCH M. LIPA
Once a rebel-infested area in the 5th district of Negros Occidental, the uplands of Barangay Mansalanao in La Castellana underwent a transformation through the years.
The patches of green grass and hills that used to be perfect lookouts for rebels are now a landscape of beds after beds of plants, each one designed as a leaf.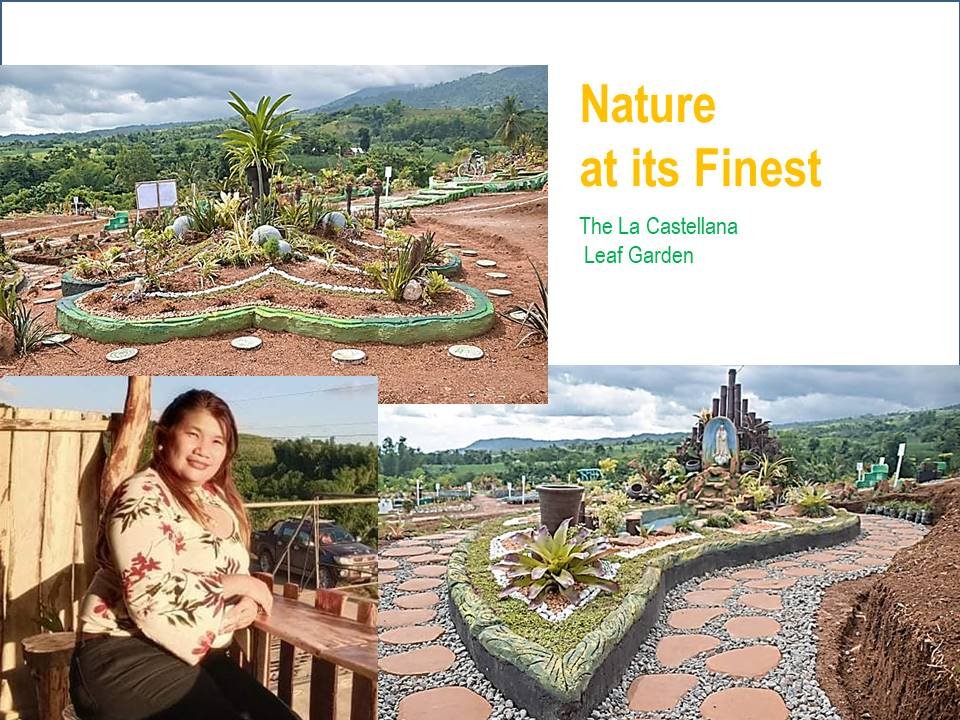 La Castellana Mayor Rhumyla Nicor-Manguilimutan calls this place the Leaf Garden of Mansalanao.
"Actually, the Leaf Garden is part of the Mandayao Panoramic View Park in Barangay Mansalanao. The garden is the centerpiece of our annual Limpio Verde Festival," Mayor Manguilimutan said.
With the area targeted as a major tourism enterprise zone, she said a Pilgrim Cross will soon be installed atop one of the hills.
"To commune with nature is to acknowledge the Divine presence of our Creator among His creations," the mayor said.
The 3.6-hectare property was donated to the municipal government, through a 25-year usufruct agreement, by the Infante Family, purposely, for Agricultural Tourism Development. A certification from the Department of Agriculture has been secured to convert the area from agricultural to a tourism site.
Aside from the leaf gardens and the universal chapel, the local government plans to develop the surrounding area of the park into a parking space for the convenience of visitors, Mayor Manguilimutan said. All these, she said, will give the locals livelihood opportunities.
"At the end of the day, we want to provide the people of La Castellana better lives. We are doing our best to promote the area and the other tourist sites of the town," she said.
The Department of Tourism, through the Provincial Tourism Office, also provided funds for the construction of a comfort room in the park, Mayor Manguilimutan added.
The Century Leaf Garden is the first project initiated by the local government to kickoff development in the area, which is now the site of the annual Limpio Verde Festival, Manguilimutan said.
CLEAN AND GREEN
"Limpio" means clean, and "verde" stands for green. The mayor said the term was coined since the local government supports the campaign for ecosystem restoration. The festival also coincides with the celebration of Environment Month every June.
With the restrictions imposed due to the pandemic, the collaboration among the organizers and the 13 barangays of La Castellana resulted in a subdued but meaningful observance of the "Limpio Verde" Festival this year.
The Sangguniang Kabataan staged the Leaf Garden Landscaping Competition and each barangay showcased its skills and creativity as they worked on their leaf-shaped gardens.
Mayor Manguilimutan is confident that with the collaborative efforts of all stakeholders, the Mandayao Panoramic View Park in Barangay Mansalanao will eventually rise beyond the expectations of everyone. After all, nature has its way of bringing out beauty and goodness from hearts that are willing to serve and give back.
In the meantime, as the world waits for the pandemic to pass and for normalcy to return, the people of La Castellana have their Leaf Garden in Barangay Mansalanao to fuel their hope for a better future. – NWI