A mother and her son were killed when a truck loaded with sugarcane smashed into their house while they were sleeping in Barangay Antipolo, Pontevedra town, Negros Occidental, at about 1 a.m. Jan. 14.
Exactly a year ago, another truck, also loaded with sugarcane, hit the same house and killed a dog.
This time, Hermie Gregorio, 58, and her son, Jay-R, lost their lives, while daughter Leona, 12, was injured, the police said.
Pontevedra PNP traffic case investigator, P/Cpl. Genesis Benas, said that Henry Salgado, 46, of Brgy. Bi-ao, Binalbagan, Negros Occidental, lost control of the 10-wheeler truck, loaded with tons of sugarcane, while descending a portion of the provincial road along Barangay Antipolo.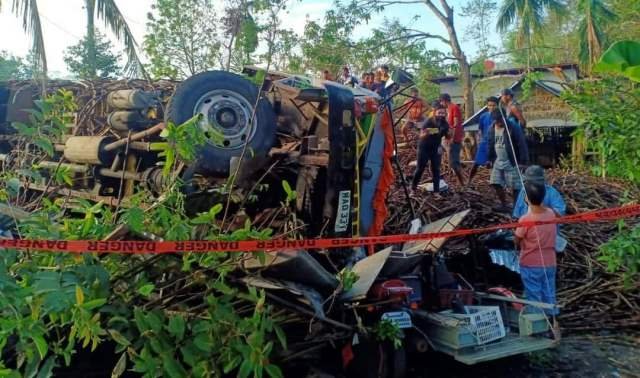 The truck crashed into the highway barrier, overshot, and slammed into the house of the Gregorio family.
Jerry Gregorio, brother of Hermie, told police investigators that the victims were brought to the La Carlota Hospital, but the mother and her son were pronounced dead on arrival.
Benas added that, based on his initial investigation, Salgado may have miscalculated the curve road, and the truck hit the barrier and was outbalanced, which caused it to fell on the left and smashed into the house.
He added that the area is considered accident-prone./MML