Senator Juan Miguel "Migz" Zubiri continuously brings projects from the heart to Negrosanons.
A true blooded Ilonggo, his father is a sugar planter, who hails from southern Negros Occidental.
Senator Migz is the only senator of the Republic of the Philippines to have brought hundreds of millions of pesos worth of infrastructure projects to the province. These projects are the symbols of his care and dedication to the Negrosanon community.
Senator Migz grew up in Bukidnon and helped establish his family's sugarcane plantation and other businesses. But being an Ilonggo, he loves to visit and stay with families in Negros Occidental. He speaks Ilonggo fluently and converse with Negrosanons whenever he visits the province, to meet with the mayors and provincial officials.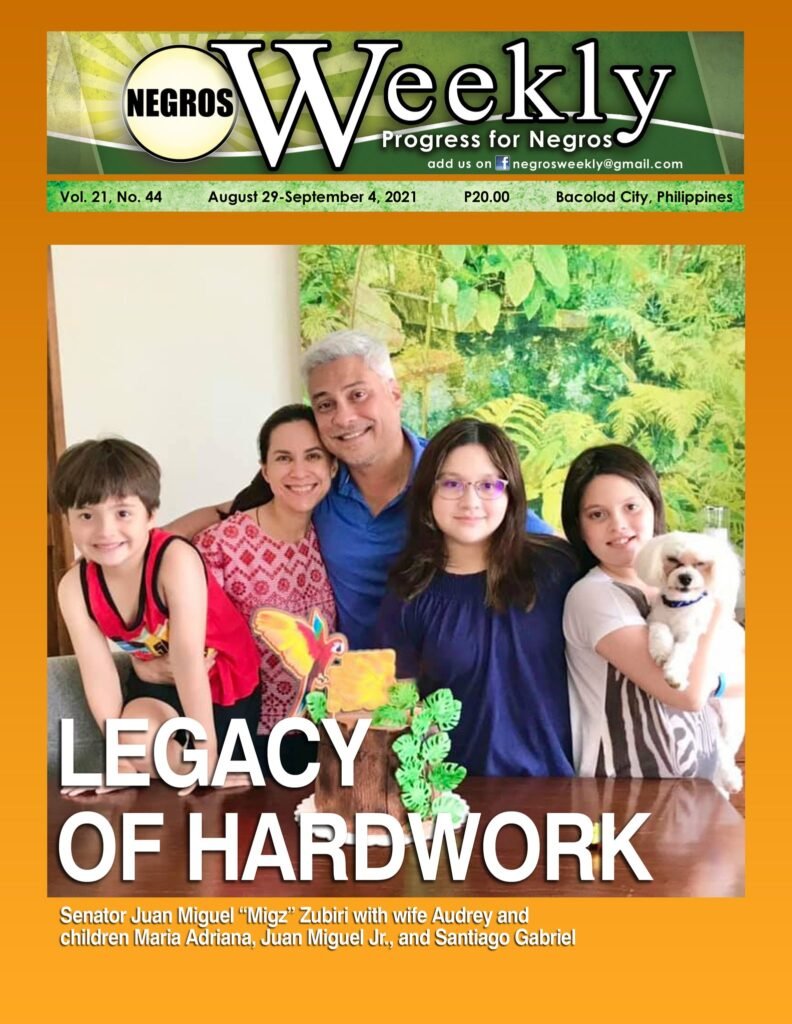 From 2017 to 2020, he has brought an estimated P274 million worth of projects, like classrooms, multi-purpose halls, and covered courts, road repairs, renovation of municipal and barangay halls, and construction of gymnasiums and museums.
In 2017, Senator Migz poured in P36 million in projects to Negros Occidental. Among the big ones were the renovation of the Bacolod Plaza, worth P10 million, and the San Carlos City Covered Court with a project cost of P5 million.
He also allocated P20 million to 10 local government units for various projects, worth P2 million each. The funds were used for the renovation of the municipal plaza of Calatrava, health station in Barangay Tuburan in EB Magalona, improvement of the city plaza of Himamaylan City, and the construction of a multi-purpose hall at the fish port in Hinigaran.
The financial assistance was also used to finance the construction of a barangay road project in Enclaro-Vista Alegre in Ilog, repair of municipal building in Moises Padilla, rehabilitation of the municipal building in Pulupandan, multi-purpose halls in Barangay Igmayaan, Don Salvador Benedicto and Valladolid, and the improvement of the public market in Toboso.
Senator Migz's dedication and benevolent service to the people of Negros continued in 2018 with another P14 million worth of projects distributed to the different LGUs, at P2 million each for barangay hall and senior citizens building in Barangay Caridad, Bago City; multi-purpose covered court in Barangay Marina, Binalbagan; multi-purpose buildings in Barangay Robles, La Castellana, Barangay Poblacion in San Enrique, and Barangay San Fernando in Talisay City, two classroom-building in Barangay San Pablo, Manapla, and the repair of the Silay City Public Market.
Senator Migz intends to bring his projects to all local government units of the province that is why he allotted another P37 million worth of projects for the towns and cities of the province.
His office provided P4 million for the construction of the extension of Tapi National High School Extension and Magballo High School in Kabankalan City, and P2.5 million each for the construction of covered courts in Barangay Andres Bonifacio in Cadiz, Barangay Banga in Candoni, Barangay Guilhungan in Cauayan, and Barangay Old Poblacion in Escalante.
Other recipients of the funds were Barangay Poblacion 1 in Hinobaan, Barangay Tinungan in Isabela, Barangay Lopez Jaena in Murcia, Barangay 3 in Sipalay City, Barangay 8 in Victorias City, the Balabag drainage project in La Carlota City, and the ABC building in Sagay City.
He also facilitated the release of P2 million each for the gymnasium in Barangay Singcang-Airport in Bacolod, and classroom buildings in Barangay Carabalan and Buenavista in Himamaylan.
The health crisis did not stop Senator Migz from delivering more projects to Negros Occidental and Bacolod City last year. Despite travel limitations, and being a COVID-19 survivor, he took time to visit Bacolod and Negros to inform people that he has more to give.
Bacolodnons will soon witness the construction of a museum, worth P160 million. Zubiri said this project will change the development map of the city in the south. The Department of Public Works and Highways is working on the phase one plan of the project for its implementation next year.
For 2020, other LGUs also received P5 million worth of projects each. The recipients were San Carlos City for its Citizen's Park, and covered courts in Barangay Purisima in Manapla, and Barangay Sikatuna and Camp Clark in Isabela.
Known for his hard work, Senator Migz is committed to serve the Filipino nation. His love for Negros Occidental will always fuel him to deliver projects that will benefit the Negrosanons. It is his legacy as a legislator and public servant. – NWI