Charges for falsification of public documents under the Revised Penal Code are being prepared against the three persons arrested in an entrapment operation Monday for producing fake vaccination cards and forging the signatures of nurses and doctors of the Bacolod Emergency Operations Center.
City Health Officer, Dr. Edwin Miraflor, will be the complainant, in behalf of the city government, in the case against Loreza Funela, of Barangay 24, Ivan Joros, 18, and Marivic Joros, 44, both of Brgy. Villamonte, Bacolod City.
Fifteen fake vaccination cards were confiscated from the three, who were nabbed in an entrapment operation by members of the Criminal Investigation and Detection Group and the Philippine National Police at Cuadra–Locsin Streets, Barangay 24 in Bacolod City.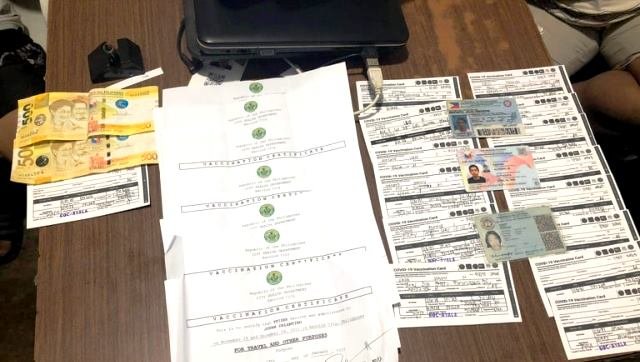 Police investigation revealed that the suspects were producing fake vaccination cards for P500 each.
Their clients are those who refused to be vaccinated but want to be spared from the strict requirement of presenting vaccination cards before being allowed entry to public places, dining in restaurants, and riding in public utility vehicles, the police added.
Miraflor said he received reports of persons selling vaccination cards in a mall Monday afternoon, and immediately coordinated with the police.
Aside from the 15 fake vaccination cards, the authorities also recovered seven fake vaccination certificates, P6,000 in cash proceeds, a laptop, and a printer.
Miraflor added he discovered that even his signature was forged in the medical certificates recovered, while the signature of Dr. Chris Sorongon was also copied in some of the vaccination cards recovered as evidences.
A case for violation of producing fake documents under the COVID-19 Vaccination Program Act of 2021 can also be charged against the suspects.
Meanwhile, Sorongon, who is the EOC deputy for medical and data analysis, said that since the start of the vaccination program, they already issued warnings to those who will attempt to obtain fake vaccination cards that they will be penalized.
Miraflor also said he believes that other illegal businesses of producing fake vaccination cards operate in the city, and he appeals to the public to report these to authorities. | MML