The Bago City Girls Junior Softball players and coaching staff Monday, Aug. 22, said they will continue training and will not rest on their laurels after placing third in their first foray to the 2022 World Series, held in Kirkland, Washington, USA, from July 31 to Aug. 6.
The 13 players, all studying at the Ramon Torres National High School in Bago, are the core of the city's League that applied for a charter in 2018, and were the champions when the Philippine Series Softball Tournament was hosted by Bago in May this year after pandemic restrictions were relaxed.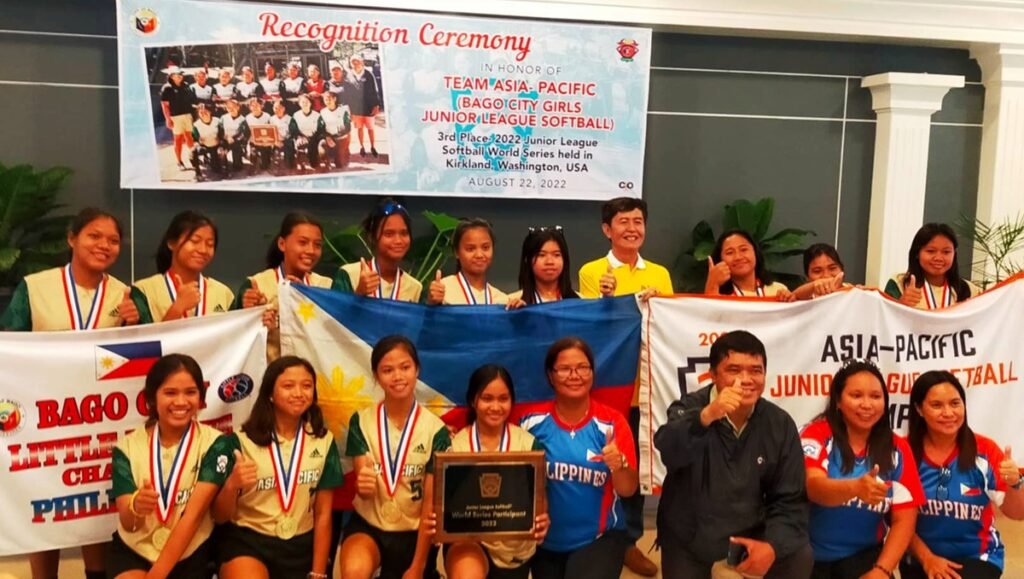 The all-Bago team that represented the Asia-Pacific Region in the World Series, and pitted skills with much bigger and experienced players from all over the world, is composed of pitcher and team captain Layle Baladjay, left fielder Daniela Bejos, right fielder Christine Jane Caracas, center fielder Froline Manalo;
First base Rhaine Elijah Timbad, 2nd base Princess Mazee Torre, 3rd base Jenny Cabanera, catchers Ann Dyana Buenafe and Audrie Sarsona, shortstops Nice Lobrido and Claire Olarte, and pitchers Althea Key Palzario and Icelle Tanaman.
Head coach Josie Sebunga said the team had tune-up games with male players in the run-up to the World Series to build their endurance and confidence in competing with much bigger and taller athletes.
The girls and their coaches were recognized in a ceremony this morning, Aug. 22, at the Bago City Community Center, following a motorcade. They received P100,000 in cash incentive from the LGU, for their "hard work, dedication and perseverance, which brought honor not only to Bago but to the entire country".
A resolution of commendation from the Sangguniang Panlungsod was also presented to the team for their "exemplary performance".
"Worthy of note are their parents for encouraging their children, and the Filipino community in the United States of America, for taking good care of our athletes, thereby boosting their morale and fighting spirit to hit a 'home run'," Bago Mayor Nicholas Yulo earlier said when he congratulated the team for their achievement.
The girls said they are very grateful to the city government officials, their parents, coaches Sebunga, Sarah Caracas, and Jullyn Benguelo, the DepEd, and the Fil-Am community, particularly the Fuentes family, for the prayers, encouragement, and financial support.
Leo Dayot, Sports Division coordinator, said that training will continue, especially with the girls now considered the strongest players after their World Series feat.
He said local eliminations will start in February next year in Ilocos, and the Bago League will need to ensure that they have enough trained softbelles for the three age categories: the 11 to 12, 13 to 14, and 14 to 16.
Dayot said about half of the girls in the junior league will go up, so they have a ladderized program to make certain the pool of players in each classification./CGC