PrimeWater Bacolod and the Bacolod City Water District donated hand washing stations to two schools in the city Oct. 4, in line with the initiative of the Department of Education to rehabilitate schools through the annual Brigada Eskwela program.
The donation of hand-washing stations to Sum-ag Elementary School and Rizal Elementary School was deeply appreciated by both school principals, who said they are thankful for the help of PrimeWater Bacolod in their crusade to keep their schools safe.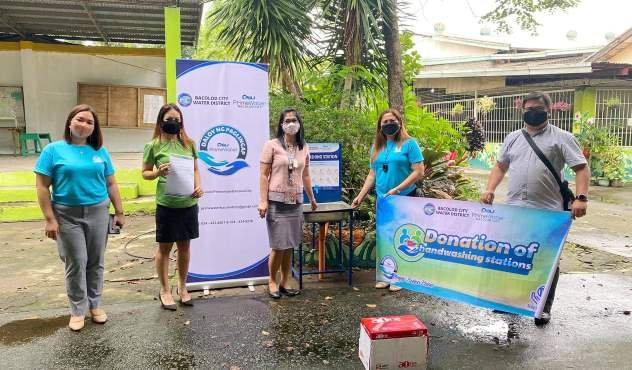 "The hand washing station that you have shared to us will surely be a great help to our teachers, parents, and students," Christina Gemora, Rizal Elementary School principal, said.
Sum-ag ES principal, Asther Jean Saril, stressed the need for frequent hand-washing within the school grounds. "Improving access to hand washing facilities through the provision of hand washing units will reduce infection and the spread of diseases," Saril explained.
This year's Brigada Eskwela slogan, "Bayanihan para sa Paaralan", emphasizes the country's collective efforts in promoting collaboration for safe living and addressing social issues and concerns in schools, at homes, and anywhere in the community.
"These past two years, the school operations were hit by the pandemic. We would like to help in responding to the schools' needs together with our JV Partner, Primewater, by not only assuring them with sufficient water supply but also with materials which can assist the teachers and the schools in carrying out their mission to provide quality education," Baciwa general manager, Engr. Michael Soliva, said.
PrimeWater Bacolod's branch manager Lily Donasco echoed Soliva's words, adding the hand washing stations would be a helpful accessory to eliminate the virus.
"This pandemic has caused us a lot, and proper hand-washing is just one of the many ways to stop the spread of the virus," she added. | PR