For two years until August this year, Ma. Rolen Ignalaga-Sioquim lived in Prague, the capital of Czech Republic, a landlocked country in Central Europe. Prague has about 1.3 million people.
Rolen, 41, is the fourth of the nine children of the late Rodolfo 'Popoy' Ignalaga – a former teacher at Don Bosco Technical Institute and human resource supervisor at Victorias Milling Company – and wife, the former Helen Cardinal of Victorias City.
Rolen, a Mass Communication graduate of the University of St. La Salle, is married to fellow Victorias native Jason Sioquim, an Electronics and Communications Engineering graduate of the Technological University of the Philippines-Visayas. The couple has three children – Lucas, 13, Emilia Adele, 7, and Lorenzo, 5.
Jason's work in Prague made Rolen and their three children to join him in the third quarter of 2021.
Rolen recounts in the following Negros Weekly Q&A her European journey, which eventually led to their new home – in Swindon, England.
What brought you to Prague? How long did you live there? Did you ever dream of living one day in Prague?
For some going to Prague is like a grand vacation but for my family it's a different story. My husband got a job in the Czech Republic in 2020 – the start of the pandemic. We are supposed to go immediately after the school year ends but because of the pandemic it took us a year and a half to be reunited with him. My three kids and I went to Prague August 2021. But the story before going to the majestic city is not actually easy. Since my husband is already in Prague, I was left alone to take care of my kids during the pandemic. The plan was to move to Victorias City from Cebu while processing our visa. But because of the pandemic things did not go as planned. We waited from March to August 2020. It was a very stressful wait. I did not even get the chance to see my father before he died in July 2020. Eventually, I read an online announcement that airports were accepting private airplanes or chartered flights.
Because I was so desperate to go home to Negros I arranged a flight for us. With the governor's permit, my kids and I bravely flew in a Cessna plane to Negros and spend one school year there.
The struggle, however, did not stop there as I got COVID-19 while I was processing our visa in Manila.
An overnight trip turned out to be a 10-day quarantine in a facility. But still luck was on my side as I had very minimal symptoms and our visa got approved.
From August 2021 to August 2023 we lived in Prague – about two weeks shy of two years.
I never dreamed of living in Prague. I just know the place because I once worked in a travel agency. I can only imagine it through small talks from my clients.
Please give an overall description of Prague.
Prague is a beautiful city. The buildings and architectures were so new to me so I was always in awe seeing them.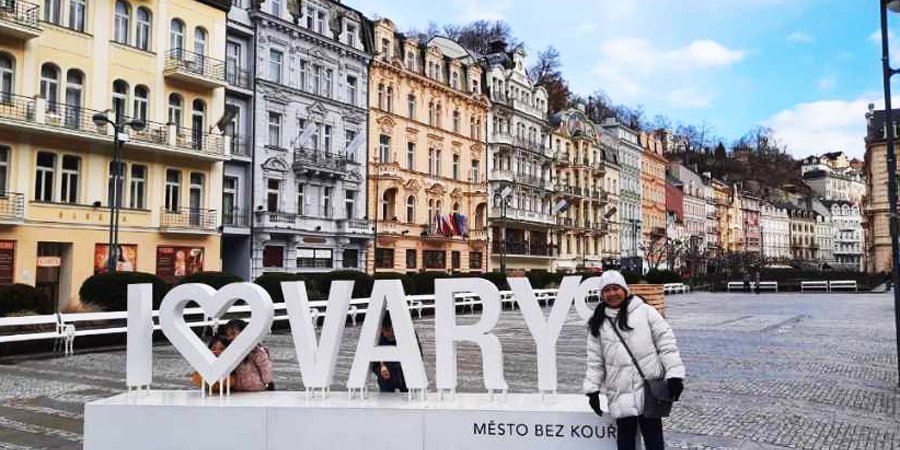 Prague is the capital city and you would expect a busy city life but surprisingly it is surrounded by many beautiful and lush parks. There is a lot of playgounds for the kids. Public transportation is super good. I can say the standard of living is okay compared to nearby countries, like Austria and Germany.
What adjustments did you make in your life there at the start coming from an Oriental culture?
As Filipinos, we can easily adapt to new places maybe because of our upbringing. We are quite open, hospitable and friendly, so living in Czech Republic was not at all hard, especially with my family around. However, communicating with the Czech was the most challenging part because even if some can speak English they won't talk to you. So my family had to learn the Czech language.
My children went to a Czech public school. It was a quite challenge but they easily adapted. They learned fast (faster than me). Going to the doctor and government offices, attending parents' meeting in school and buying medicines were very difficult, especially that the Czechs are quite aloof and straightforward people. Honestly, I did not have any Czech friends – all of my friends were foreigners, too – Japanese, Russian, Bulgarian.
Finding a Catholic Church with an English mass was also difficult. It's important for my family to practice our faith. It was with His grace that we had this great opportunity. Thankfully, we found St. Thomas Church and the Infant Jesus of Prague.
What interesting places you have seen there?
The Czech Republic has an excellent public transportation system so almost all nice places are accessible through trains and buses.
The first attraction we went to was in Český Krumlov. It is located at the southern Bohemian Region. It's almost a three-hour train ride. We also went to Karlštejn Castle. It has big gothic castle. It's easy to get there as it is only about an hour away from Prague. We also went to Karlovy Vary. I think to some, it is known as Carlsbad. It has so many thermal water spots and is home to many wellness spas.
One of the perks if you are from Czech Republic is you can visit many countries in Europe by train, bus or private car. We also visited Salzburg, Austria by train.
What is most interesting about the life of Czech people?
As I have observed Czech people like to drink beer. In restaurants, menus are always paired with beer.
A neighbor once told me that the only way you can gain a Czech friend is to share a drink with them – no wonder I did not have any, because I don't drink beer.
Czechs, as I observed, have preserved their customs and traditions very well.
I enjoyed seeing them at the parks celebrating Easter differently from ours. Easter for them is like welcoming the Spring season. Celebrating Christmas is a little different as well. They have Santa Claus whom they call Mikuláš – he rewards good children with a small gift while a Čert (a devil) gives potatoes to mischievous kids but a child can render a song or a poem or play a musical instrument in exchange for a reward. They like the outdoors. Rain or shine or snow, they will always go out with their little kids. They like to spend time walking around.
During summer, you would always see someone, including kids playing outside barefoot or seeing them naked beside a pond or even just a fountain.
Was migrating to Czech Republic a difficult process?
While some countries can easily accept application online, processing for a long- term visa in Czech Republic is quite difficult. It is done in the Czech embassy itself in Manila. The process takes around 90 to 120 days. Then you have to pick up your visa along with your purchased health insurance and that means another trip to Manila. Expats in Czechia don't enjoy public health insurance so we had to buy our own health care insurance which is not cheap.
Please describe your family life in Prague. Also… the education of your children there.
Living in Czech Republic with the family is quite rewarding. No more OFW blues stories for us. However, we had to make some adjustments because the weather is very different. My children's health was always a concern during the winter season.
I had to research online or ask someone for some tips on what to do or what to wear and where to buy them. Because I was a stay-at- home mom I did all the cooking – the challenge was buying ingredients – because I had to translate everything – labels, instructions, etc.
I have three kids – Lucas, 13 years old; Emilia Adele, 7, and Lorenzo, 5. They attended a Czech public school. At first it was difficult because they needed to speak Czech. My eldest son said that his lessons were pretty easy but because it was taught in Czech language, he had to take extra time to study. He would wake up as early as 5 a.m. just to finish studying. My first grader would cry sometimes because she could not memorize a six-line poem in Czech. What was worst was I could do so little because I also do not know the language.
Through their hardwork and perseverance, however, they passed the school year with honors. Amazing, indeed!
How big is the Filipino community there? Any interaction with the members of the group?
It's not that big. As what I observed, Vietnamese composed the most number of Asians living in Czech Republic. But it was such a delight to see fellow Filipinos every Sunday at the church. There's one Filipino priest in St. Thomas Church who sometimes celebrated mass in Tagalog. At times, we had a salo-salo after the Sunday mass.
Any Negrense friends there?
I knew one from Kabankalan – Alma Geduci. She's the first Filipina I met in Prague. She gave winter clothes for my daughter. There are many Ilonggos in Prague, mostly from Antique.
What did you miss most about Philippines while you were in Prague?
I missed the sun, the beach and my family.
Please tell us briefly about Swindon, your new home.
Swindon is a small town in southwest England. It has countryside vibes. It's about 70 miles, or 1.5 hours from London. Its population is about 185,000. It is home to many technology companies. I have not explored Swindon yet but for sure I will learn to love this new place, like Prague. As long as my family is complete, I am not complaining. | AVDelCarmen