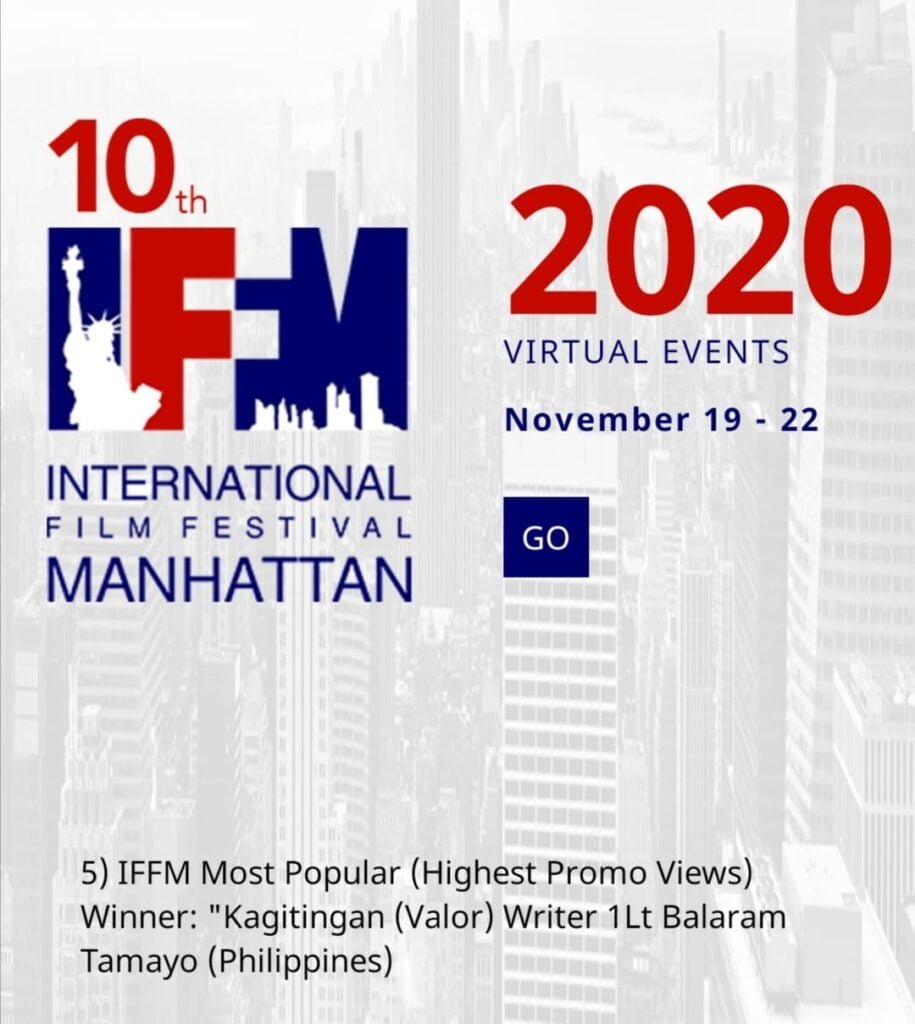 A short documentary on the heroism of then Army Capt. Arturo Ortiz, a Medal Of Valor recipient in Negros Occidental, won three awards in the recent 10th International Film Festival Manhattan in New York.
"Kagitingan: A True Story of Valor" featured the heroism of Ortiz, who led 26 elite Special Force troopers of the Philippine Army and 36 Citizen Armed Forces Geographical Unit members, in the capture of a New People's Army training camp in Sitio Manipulon, Barangay Pandanon Murcia, more than 30 years ago.
The Ortiz entry won best screenplay, IFFM's most popular film award and received the highest promotional views. It bested 82 other entries.
Ortiz is now retired from military service.
The then commanding officer of the 606th Special Forces Company, carried out a nighttime operation against more than 200 communist rebels, occupying the training camp.
Under the cover of darkness, he led his men in a grueling 11-hour cross-country march, scaling a 1,000-foot high cliff, enabling his forces to infiltrate the rebel camp, while avoiding booby traps and claymore mines.
Aware that air support and artillery fire would be futile due to the dense forest cover, Ortiz instructed his men to move in to as close as 10 meters from the rebel positions before launching the surprise attack, as he moved from one team to the other, to ensure that women and children be spared from being hit in the crossfire.
The two-hour gun battle resulted in the death of 84 rebels.
Twenty-two bodies were recovered, including 17 on site.
Eight others were captured, while several others were wounded and missing as reported by the Negros Island Regional Party Committee.
Also recovered from the seized rebel camp were 33 assorted firearms, 21 rifle grenades, several hand grenades, five ICOM radios and other enemy equipment.
By this display of exceptional courage and high degree of leadership, Ortiz, who later became the commanding general of the Philippine Army, was awarded with Medal Of Valor, the Philippines' most coveted military medal, by former President Corazon Aquino, for distinguishing himself in the field of combat in keeping with the highest tradition of Filipino soldiery.
The 26-minute film was written, directed and edited by 1Lt. Balaram Tamayo, a Special Forces officer who is also behind some of the Philippine Army's promotional videos.
The awarding was held on line due to the COVID-19 pandemic.
The festival was participated in by independent film makers all over the world.*GB