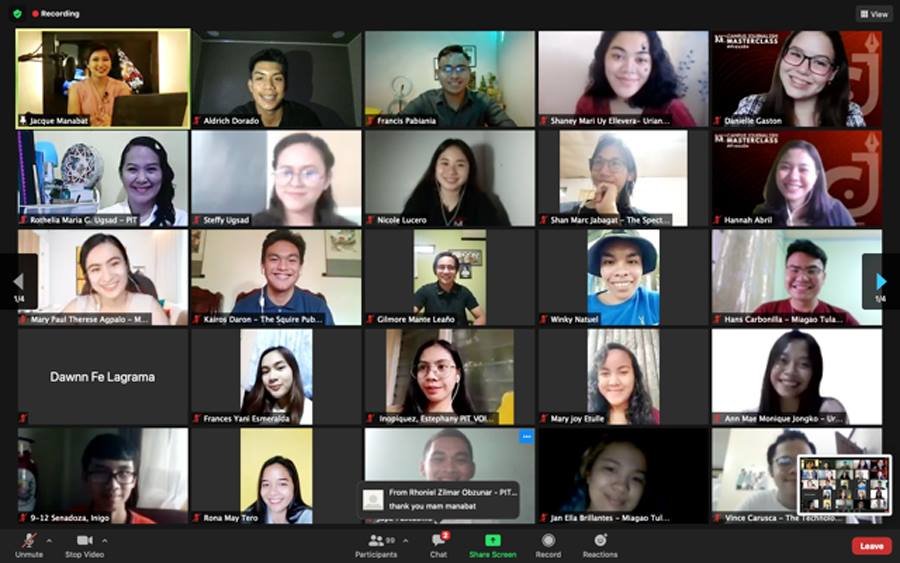 More than 500 student journalists and publication advisers in the country converged virtually in the Campus Journalism Masterclass conducted by the Kapunungan sa mga Mass Communicators on October 31 and November 7 of Silliman University.
KMC is the academic organization of the SU College of Mass Communication.
The Campus Journalism Masterclass was themed, "PRESS ON: Establishing Progressive Student Journalism".
CJM, held for two days in October and November, aimed to equip student journalists or campus publications with the knowledge and skills of journalism especially in dealing with information in times of pandemic, crisis and disasters; and to encourage aspiring journalists.
This year, the annual KMC project for Dumaguete and Negros Oriental student writers, was expanded as a national activity this year via Zoom conference and streamed live via Facebook.
Participants represented more than 20 high schools and colleges, including Far Eastern University, UP Visayas and University of St. La Salle.
Organizers said the activity also aimed to empower student publications in setting their agenda with emphasis on articles that appeal to readers in communities thereby transcending borders.
The speakers were Jacque Manabat, ABS-CBN senior multiplatform journalist, who discussed "Student Journalism on Documentation and Field Reporting"; Lyza Aquino, a multiplatform reporter for ABS-CBN Manila, "Digital Journalism 101"; Joeberth Ocao, senior editor of The Freeman, "Leadership and Team Building"; and SU alumnus Val Amiel Vestil, founder of Association of Young Environmental Journalists, "The Role of Student Journalists in Environmental".
"No one else can take the job of an environmental journalist but you," Vestil shared that it (environmental journalism) may not be the 'most lucrative' kind of career today. He added that his work in environmental journalism was the 'most fulfilling' throughout his years in the communications industry.
"I want you to live a life on Earth that is so full of fulfillment that you are ready to die anytime because you would have told yourself: I've done my part for the planet," he said.
"Maybe in the real life, I am doing my best to improve my skills and discover more about my capabilities as a writer," he said.
Manabat called on the writers to write stories that have an impact on readers as she pointed out that society needs writers more than ever. "Don't let the pandemic be a hurdle. Mas maraming tao ang nangangailangan ng mga istorya natin ngayon," she said.
St La Salle online writer, Shawn Mark Jabagat, said that what struck him was the idea that accuracy and truth must be reported with humanity, understanding and empathy.
CJM Chairperson Hannah Patricia Abril emphasized that integrity, courage, resilience and empathy in the journalism field should start in schools as she expressed hopes that the conversation would inspire the participants to be responsible journalists. – NWI