Bacolod Lone District Representative Greg Gasataya said he believes that his job does not stop with legislation works but also includes delivering basic services to his constituents.
Gasataya proudly reported that House Bill 6731, which seeks to create the Bacolod City General Hospital, was signed into law by President Rodrigo Roa Duterte as Republic Act No. 11564 in June this year.
The solon said he considers this as his milestone legislation.
HEALTH
The law will establish the long-time dream of the District Representative for Bacolod to have its own General Hospital.
With the support of Senate Majority Leader Juan Miguel Zubiri and Senator Bong Go, the Health Department, through Secretary Francisco Duque, has included in the 2022 General Appropriations an initial budget of P200 million for the construction of the hospital that will commence early next year through the Department of Public Works and Highways.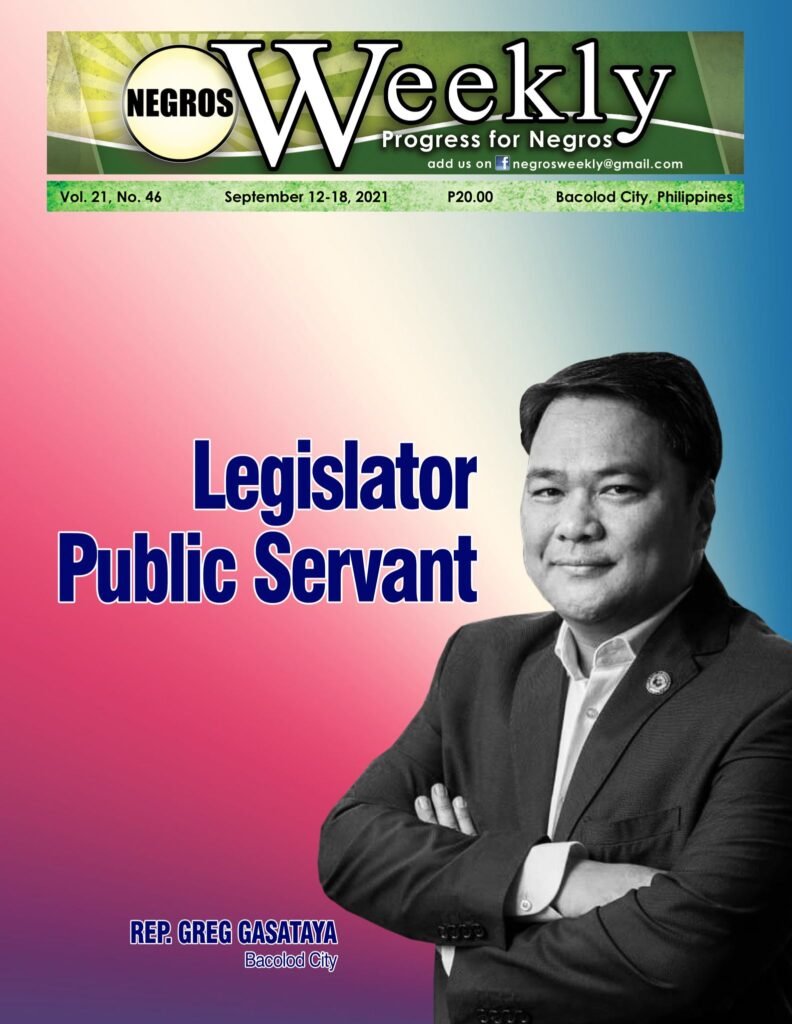 His concern for HEALTH started during his first term in the House of Representatives, where he allotted millions of pesos in medical assistance, especially for Bacolodnons admitted at the Corazon Locsin Montelibano Memorial Regional Hospital.
He said his office was able to help more than a thousand Bacolodnons since 2017.
EDUCATION
As an Education Champion, Cong. Greg gives priority to the EDUCATION programs, in partnership with the CHED and TESDA, especially on scholarships grants.
About 1,500 Bacoleños have availed of the free scholarship program every semester. His EDUCATIONAL SCHOLARSHIP has helped provide job opportunities for graduates of vocational courses.
This year, his office led the distribution of livelihood kits for TESDA scholars. The 110 beneficiaries will be able to use the kits to earn extra money, especially amid the pandemic. Among those distributed were welding machines, cooking materials, electrical and massage tools.
FINANCIAL ASSISTANCE
Cong. Greg is considered a SERVICE CHAMPION by different barangay leaders. During this pandemic, the Congressional Office provided financial assistance to various sectors affected by the crisis. More than one thousand members of vendors associations, tricycle, trisikad and jeepney drivers, and port terminal workers were able to avail of the DOLE-TUPAD assistance at P3,900 each.
Recently, the Congressional Office also extended assistance to fire victims in barangays Singcang, Bata, 12, and Alijis. Residents affected by recent calamities received up to P5,000 in assistance.
SPORTS
The yearly Congressman Greg Gasataya Basketball League paved the way for discovering new breed of basketball players.
One classic example was the discovery of Bacoleño Jeffrey Manday, who was a new pick of the San Miguel Beermen in the Philippine Basketball Association.
Manday was a scholar of the Congressional Office, in partnership with TESDA, and was the Most Valuable Player in the third season of the Congressman Greg Gasataya Basketball Tournament.
He is being considered by Cong. Greg as a role model for the youth, who persevered in his dream of entering professional basketball.
Cong. Greg said he is eager to continue the yearly basketball tournament when things return to normal. – NWI