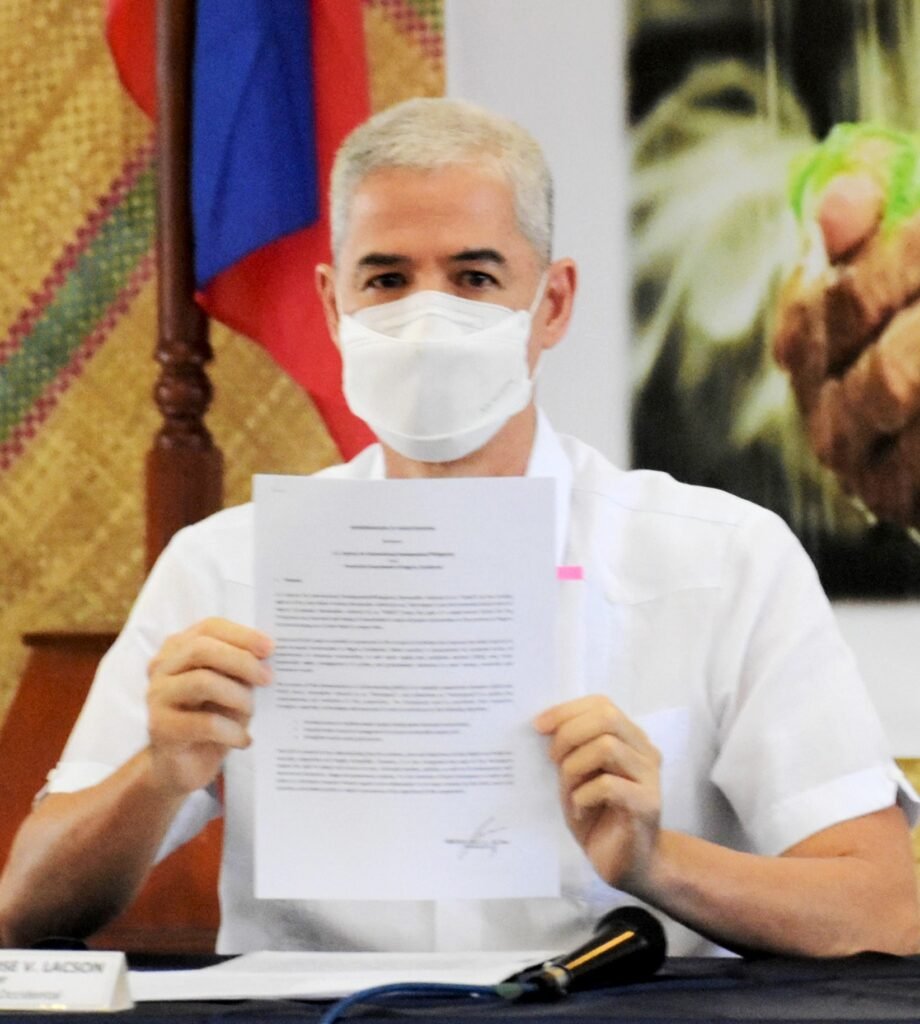 The United States Agency for International Development is extending an $18 million assistance or roughly P900 million to the provinces of Negros Occidental, Palawan and Sarangani over a five-year period under its Safe Water activity.
The grant was contained in a Memorandum of Understanding entered by and between Gov. Eugenio Jose Lacson and Lawrence Jardy II, USAID mission director, who was represented by his deputy, Patrick Wesner, during the virtual MOU signing Thursday, Nov. 19.
Signing for Sarangani was Gov.Steve Chiongbian Solon, while Palawan Vice Gov. Dennis Socrates signed on behalf of Gov. Jose Chavez Alvarez.
The MOU stipulated that the province and the USAID "share the goal of a water-secure future and improved well-being of households in water-stressed communities in the Province of Negros Occidental being one of the Safe Water's project sites".
Both entities also "seek to establish cooperation in the conduct of activities that will improve the water security of underserved and unserved communities to safe water supply and sanitation services, and more sustainable water management of surface and ground water sources to meet human and economic ecosystem needs," the MOU added.
With the respective strengths, expertise, technologies and resources of both the aid agency and Capitol, they hope to increase access to resilient water supply among water-stressed communities, improve resource management and strengthen water sector governance.
In his message following the signing rites, Lacson reiterated his gratitude to the USAID for choosing the province and the three million Negrenses to be the recipients of Safe Water.
The US-funded program has a lifespan from December 2019 until December 2024, the MOU showed.
In 2018, the United States, through the aid agency, provided $108 million, making it one of the biggest bilateral donors, to help address environment-related problems such improved management of natural resources, promotion of water and energy security and reduced vulnerability to natural disasters
"Water security is among the most serious issues our present world is confronted with as population grows and as we progress towards globalization and modernization. We also face a greater demand for water from our already scarce water resources," the governor said, reading from his prepared speech.
Negros Occidental, he pointed out, is presently considered one of the most highly-vulnerable to drought and desertification, and these concerns are further aggravated by water pollution, water-borne diseases and climate change, to name a few.
"Hence, the pressing need for sustainable water management", Lasson said, adding that "skillful and educated collaboration are needed if we are to have effective, powerful and sustainable solutions".
He added the province is, indeed, fortunate to be a participant in the Safe Water activity.
Today's signing of the MOU, he continued, is a milestone and a significant step towards a more serious and in-depth water governance for a more inclusive and sustainable development in Negros Occidental.
The MOU further stipulated that the USAID will, among others, undertake climate and hydrological studies to identify available water sources and update data base for watersheds and river basins in priority project sites;
Assist water service providers or WSPs in the LGU-developed comprehensive spatial profile of water safety and sanitation access levels within their jurisdiction and quality of service;
Support, through the Negros Water Summit, the crafting of the proposed Provincial Integrated Water Security Plan that will concretize strategies for accelerating access to WSS and ensure sustainability of water resource use;
Provide technical assistance and trainings to priority WSPs and LGUs and watershed management councils based on jointly-identified priority capacity-building needs; and,
Scale efforts in collaboration with water.org to promote access to WSS services of households in underserved and unserved areas by linking them to micro-finance institutions.
The provincial government, on the other hand, shall designate official representative/s from concerned department and units, who will be involved in the joint activities with Safe Water;
Link SW with LGUs within its jurisdiction through the Association of Chief Executives to collectively engage and complement efforts in the WSS and watershed management and convene it as a regular forum for knowledge and information sharing;
Provide policy support to facilitate conduct of WSS, watershed management initiatives;
Facilitate access to CBMS information and other updated data and maps from concerned agencies and institutions; facilitate coordination among LGUs, DENR, WSPs and communities in the implementation of jointly-agreed plans. -ETL