From a dedicated jiu jitsu student, competitor, and eventually, a world titlist, Sunny "Pin" Diego from Bacolod City is now a certified self-defense teacher in the United States.
To become a certified teacher, Diego trained on the Gracie Humaita Self Defense course at GH St. Louis, owned by Professor JW Wright, in St. Louis, Missouri, and GH Ozark under Professor Ronnia Page. The course certificate was handed to him and to other attendees, who are all chief executive officers of their respective academy, by Master Royler Gracie.
Also known as Doctor Sunny, Diego is the CEO and an instructor in Gracie Humaita Redlands.
As the first Negrense to earn a certification in teaching the Gracie Jiu Jitsu course, Diego brings pride and honor to his home province. He is an inspiration among his peers, who love martial arts.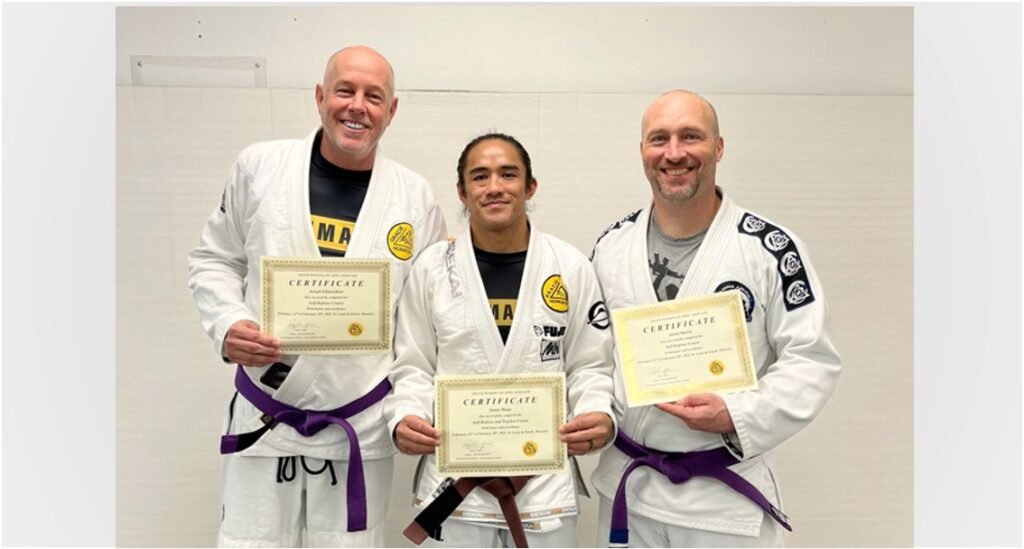 "The course was handed down to me by Master Royler Gracie himself along with other students," Diego told the NEGROS WEEKLY.
Royler Gracie, who lives in San Diego, California, is a Brazilian-American retired mixed martial artist and Brazilian jiu-jitsu practitioner. He ran the Gracie Humaita School in Rio de Janeiro for many years under the supervision of his father, Helio.
The late Helio Gracie was a Brazilian martial artist and, with his brothers Oswaldo, Gastao Jr., George, and Carlos, founded and developed the self-defense martial art system of Gracie Jiu-Jitsu, also known as Brazilian Jiu-Jitsu.
"I am honored to be certified as a Self Defense teacher by no less than Master Royler Gracie himself," Doctor Sunny said.
He believes that discipline, great work ethics and love for what he does led him to the path of being a self-defense teacher.
"As John Maxwell said, 'Leaders know the way, go the way, show the way'," Diego said, adding that he wants to inspire other people through his hard work.
As a competitor in jiu jitsu, Diego won several awards and championships. He won the PAN American Championships twice and is a two-time American Nationals champion.
The pride of Bacolod City and Negros Occidental, Doctor Sunny was former No. 1 IBJJF No Gi Purple in the world and former No. 1 JJWL light featherweight Purple, and 6-Division champion.
"It is not just the intentions but also the results that matter. I believe that words with actions are way better than just words," Diego said.
Doctor Sunny is the son of the late Sany Diego and Doctor Crispina Vedra-Diego of Bacolod City. He is married to Hannah Robles Diego, a registered nurse. The Diegos live in California.
"I love jiu jitsu and I am proud of all the achievements of my husband," Hannah said.
"I am not an athlete and have never participated in any sport during my student days but I have always wanted to experience how it feels to compete. I am experiencing it now through my husband," she added.
Hannah said that each person must live a life full of experiences and must be ready to grab every opportunity that comes along the way.
"I do not intend to live a boring life and I crave for experiences and excitement. I found it in my husband's game," she said.
Grateful for the support of his wife, Diego said her love is the "booster" that he needs whenever his steps on the mats.
"Every medal I won, I am dedicating it to her," he said. | NWI