A member of Communist Party of the Philippines-New People's Army (CPP-NPA) Yunit Militia and his minor son from Himamaylan City, Negros Occidental yielded to the Philippine Army troops in central Negros on October 9.
On Monday, their surrender was confirmed by the 94th Infantry Battalion (IB), but their identities were withheld for security and safety seasons.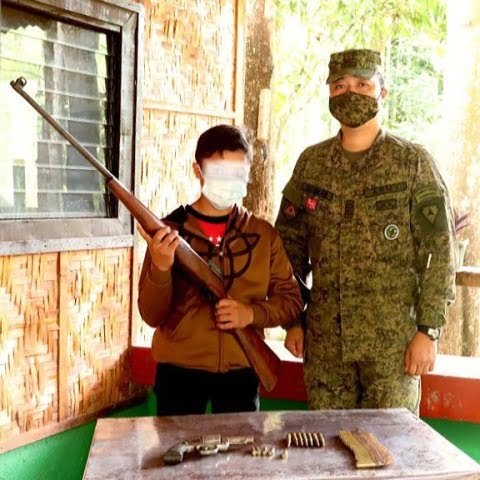 According to the 94IB, the 40-year-old militia man surrendered with his 16-year-old son to ensure the safety of the minor, following their involvement in the series of encounters with government troops in the hinterlands of Himamaylan and neighboring Binalbagan town and Kabankalan City.
The father, known as alias "Joker", turned over a caliber .38 pistol while his son, alias "Jacking", handed a caliber .30 Springfield sniper rifle to Lt. Col. Angelo Guzman, commander of 94IB.
The boy, who was recruited by the NPA when he was only 11, was assigned as a medical officer of Sentro De Gravidad Platoon of Central Negros Front 2.
He was part of the communist-terrorist group who clashed with the troops of 94IB in Sitio Tugas, Barangay Carabalan, Himamaylan City on April 20 this year. The encounter claimed the lives of 2nd Lt. Ralf Amante Abibico and two other soldiers.
During his surrender, the boy told the 94IB that their unit also suffered casualties during the clash, but they were able to bring the bodies away while withdrawing from the encounter site.
Alias "Joker" said he doesn't want to see his young son die as he wants him to fulfill his dreams.
Guzman said that alias "Joker" has six children, and "Jacking" is the third among them.
He said that the surrenderer also has a six-month-old child, who is sick and confined in a hospital, but alias "Joker" was able to visit the infant on Sunday night.
"The battalion will facilitate the application of father and son to the Enhanced Comprehensive Local Integration Program," Guzman said.
In a statement, Brig. Gen. Noel Baluyan, commander of 302nd Infantry Brigade, condemned the CPP-NPA for recruiting child-soldiers, which is against the principles of the International Humanitarian Law and Laws pertaining to the protection of children in the armed conflict.
"Children, like alias 'Jacking' and many others like him, do not belong in the warzones. They do not deserve to live in violence and fear. They belong in the safety of their homes and communities. They belong in schools that would educate them so they will have a bright future," Baluyan said.