A U.S.-based celebrity couple last week sneaked into town unnoticed. The couple: Philippine-born Tim Tebow, a former National Football League quarterback, and Demi Leigh-Nel Peters Tebow, Miss Universe 2017, and a South African model.
But the visiting celebrities, instead of becoming the center of attraction in the Negros event, came to honor the 79 "guests" in the event, a gala ball dubbed "Night To Shine", a global program geared to provide young people with special needs the experience of being kings and queens in an elaborately-prepared prom.
Tebow, 35, a former college football star, who became the first underclassman to win the Heisman Trophy and led University of Florida to two national BCS championship trophies, was born to U. S. Baptist missionaries who served in the Philippines.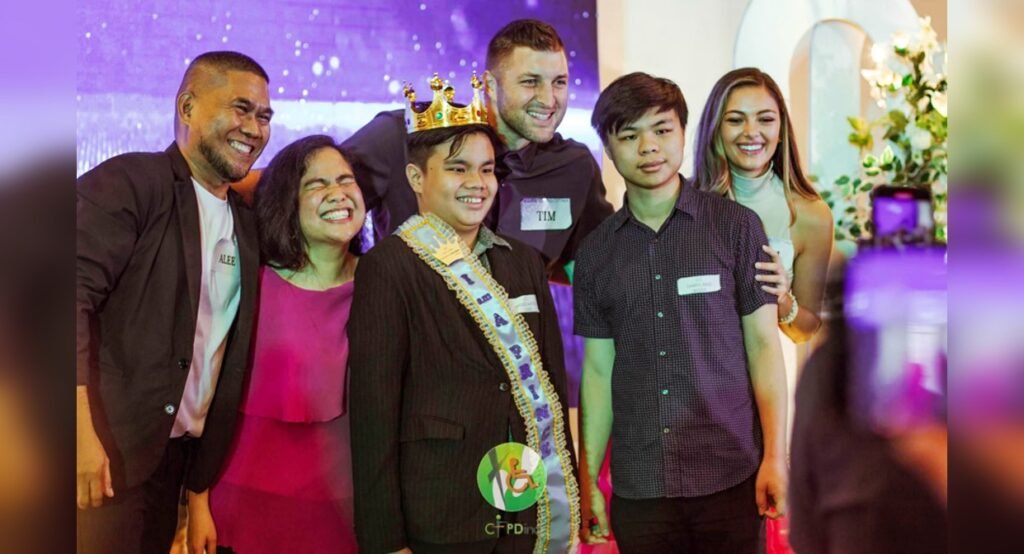 The Heisman Trophy is annually presented to the most outstanding player in college football in recognition of their great ability combined with diligence, perseverance and hard work.
Demi, 27, who is also a Christian, has been featured in various global television networks sharing her deep faith and love for God.
"From the start of her relationship with Tim Tebow, the couple bonded over their shared faith and have always proclaimed their Christian values," declared Beliefnet, an online platform, in its celebrity database.
They were married on Jan. 20, 2020 in a lavish sunset ceremony in Cape Town, South Africa. The wedding was publicized all over the world.
The Bacolod City Night To Shine activity, held at Nature's Village in Talisay City, is one of the ministries of the Tim Tebow Foundation, which "exists to bring faith, hope and love to those needing a brighter day in their darkest hour of need."
Tim and Demi took turns in placing the sash on the Kings and Queens, or Princes and Princesses, who wore suits and gowns.
Seventy-nine "guests", all persons with disabilities, were honored during the four-hour, red-carpet event, which was capped with a gala ball.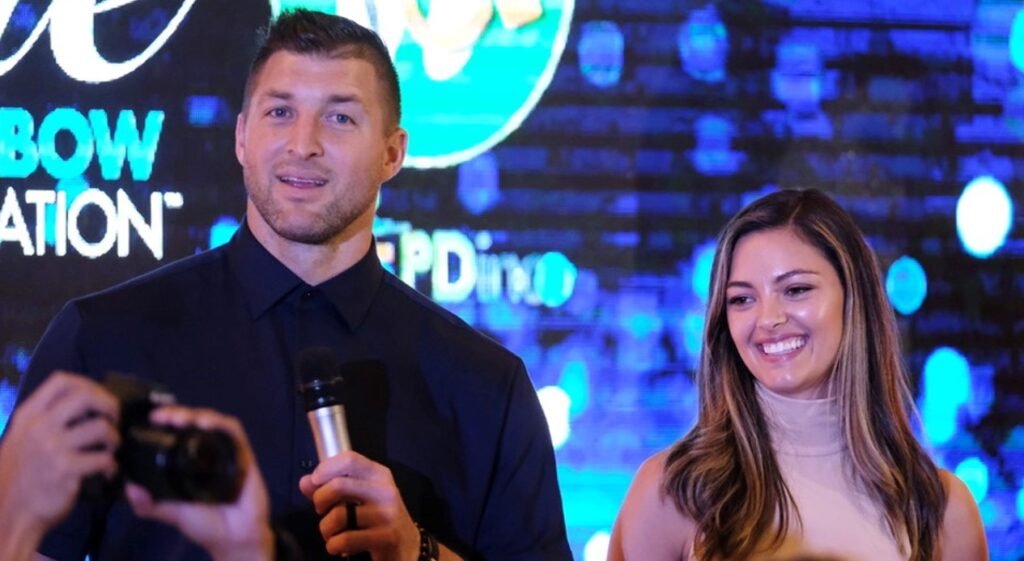 "It is a dream come true to see so many people come together from around the world to experience this one night and to see each face reflect the love of Christ in their joyful smiles and beautiful spirits," the TTF said in its website.
Guests individually went up the stage with their "buddies" – family members or guardians who accompanied them. TTF team members walked with them down the aisle.
Highlighting the ceremony was the crowning of every honoree by Carla Aleje Pendon, acting executive director of the Christian Foundation for Persons with Disability, the local partner organization of the sponsoring foundation for the Feb. 8 event.
Pendon, who is blind (please read her separate story, a first-person account on this spread) told Negros Weekly after the event: "Crowning our participants was such a joyous experience to me. I could not see their faces but I saw with my heart how happy they were."
Emily Go Villanueva, event overall head organizer and CFPD vice chair for operations, said the guests, aged 14 to 22, came from the Special Education schools in Bacolod City, Handumanan, Bago and Talisay, Happy Beginners School of Learning and from CFPD partner churches.
The guests enjoyed good food and also good music during the ball, Pendon said.
Villanueva added that a separate activity with 26 pastors and counselors was conducted for parents of participants who also accompanied them.
Tebow, in his talk, shared that one of his favorite verses in the Bible is John 3:16, which he started to recite and asked the crowd to join him and, a little later, allowed his audience to finish saying it, prompting him to flash a big smile.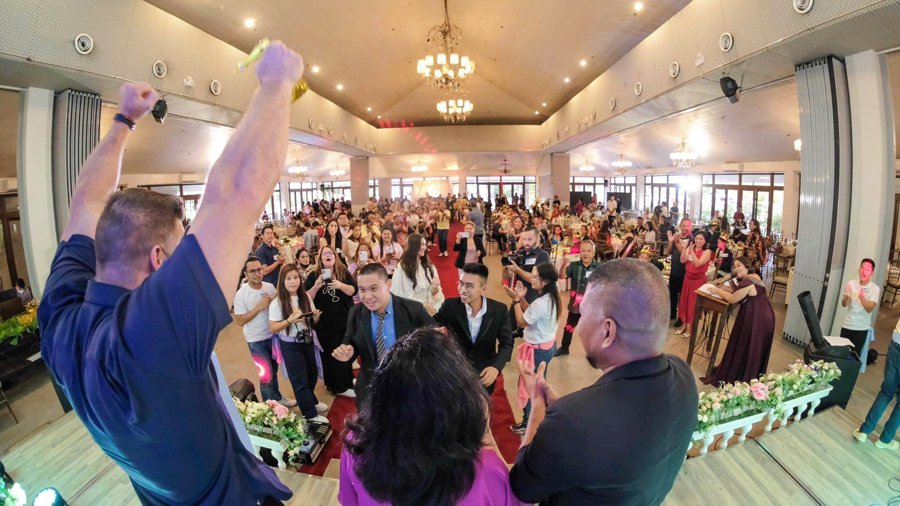 It was the same verse he inscribed – as a testimony of his faith – when he wore eye black during the 2009 BCS, or the Bowl Championship Series, held to determine the national college football champion. His team took the title by defeating the Oklahoma Sooners.
Tim drew widespread attention not only for leading the Gators but more so for the verse painted on his face that registered 94 million Googles globally on John 3:16.
While the couple stayed only for a few hours.
Villanueva said the Tebows spent a big part of their time hugging and engaging the children.
They are special to God, He loves them, that's why we are here. We are here for them, he said in his speech.
The couple and their team flew out right after the event.
Tebow, a college football star, who became the first underclassman to win the Heisman Trophy and led University of Florida to two national BCS championship trophies, was born to U. S. Baptist missionaries who served in the Philippines.
He has been known for standing true and being vocal about his faith by, among others, kneeling before games, his head bowed in prayer with his arm resting on his knee – an act which became known worldwide as "Tebowing".
Night to Shine, which Tebow called his "favorite night of the year", was held simultaneously mostly on Feb. 10. It honored more than 75,000 young people with disabilities in 46 countries involving over 600 churches and organizations.
It was held in Bacolod City two days ahead of the global schedule as the Tebow couple expressed the desire to personally attend the Negros event, Pendon said.
The Tebow foundation also held it in five other places in the country – two in Davao, Iloilo, Metro Manila and San Fernando, La Union.
Tebow, in an email sent to supporters and friends after the global event, wrote:
"Demi and I personally were able to celebrate in the Philippines with some of the amazing young boys and girls who have been patients at Tebow CURE Hospital in the Philippines (a 30-bed facility which he established in 2014 in Davao City)."
Many of the boys and girls who made their way down the red carpet and were crowned King or Queen have received life-changing surgeries at Tebow CURE Hospital, he recalled.
A participant in the Talisay City event was Henry 'Nonoy' Jocame Jr. of Bago City. He recounted how deeply hurt he was before when told he would amount to nothing because he is blind.
At Night To Shine, Nonoy said he felt he is special. "Special gid ko kay Jesus," he repeatedly said, adding that he is now motivated to pursue his studies and realize his dreams.
Another guest was Rizal Navia, 28, who has orthopedic disability. Organizers said they made an exception and allowed him to participate despite his being over the age ceiling, he pause he said "he has never attended a prom before."
Tim reiterated in his email: "I'll remember for the rest of my life. And on top of that, seeing them celebrated as King or Queen, was a truly humbling and wonderful experience." – NWI