Success can take many forms but behind it all is hard work.
This is how Engineer Michael Soliva, Bacolod City Water District acting general manager, sums up the years that led him to where he is now.
In this week's cover story of NEGROS WEEKLY, the 40-year-old chemical engineer shared his thoughts on what success is and how he deals with the challenges that go with it.
Who is Engr. Michael Soliva?
I was born on May 8, 1981 to Fernando Soliva, from San Miguel, Iloilo, and Teresa Miranda, from Tabunan, Bago City. I am the eldest among four children.
My sister, Kristy Ann Soliva – Galang manages a private tutorial institution in Quezon City, while my brother, Josef Manuel Soliva, is a high school guidance counsellor at the University of St. La Salle-Bacolod. Our youngest sibling, Fernan Soliva, works at the Bank of the Philippine Islands as an accounts officer.
Our family was initially based in Barangay Sum-ag in Bacolod City and after several stops, we settled in Barangay Tabunan in Bago City. I am a product of the University of St. La Salle, having spent my elementary, secondary, and tertiary education and post graduate studies in this University. I graduated in 2004 with a Bachelor's Degree in Chemical Engineering and finished my Masters in Environmental Engineering in 2011.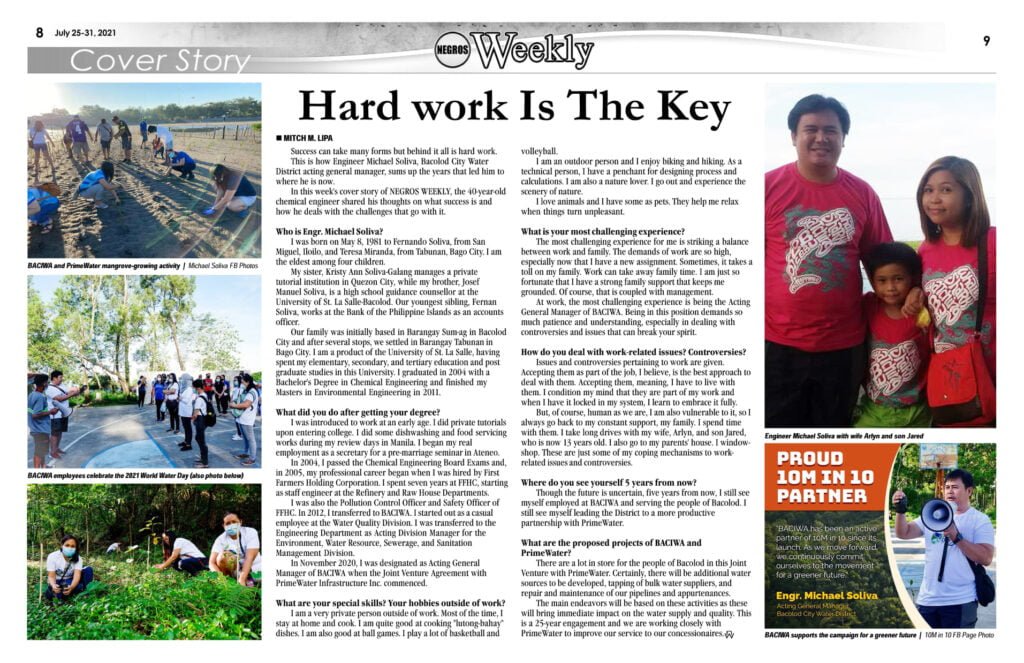 What did you do after getting your degree?
I was introduced to work at an early age. I did private tutorials upon entering college. I did some dishwashing and food servicing works during my review days in Manila. I began my real employment as a secretary for a pre-marriage seminar in Ateneo.
In 2004, I passed the Chemical Engineering Board Exams and, in 2005, my professional career began when I was hired by First Farmers Holding Corporation. I spent seven years at FFHC, starting as staff engineer at the Refinery and Raw House Departments.
I was also the Pollution Control Officer and Safety Officer of FFHC. In 2012, I transferred to BACIWA. I started out as a casual employee at the Water Quality Division. I was transferred to the Engineering Department as Acting Division Manager for the Environment, Water Resource, Sewerage, and Sanitation Management Division.
In November 2020, I was designated as Acting General Manager of BACIWA when the Joint Venture Agreement with PrimeWater Infrastructure Inc. commenced.
What are your special skills? Your hobbies outside of work?
I am a very private person outside of work. Most of the time, I stay at home and cook. I am quite good at cooking "lutong-bahay" dishes. I am also good at ball games. I play a lot of basketball and volleyball.
I am an outdoor person and I enjoy biking and hiking. As a technical person, I have a penchant for designing process and calculations. I am also a nature lover. I go out and experience the scenery of nature.
I love animals and I have some as pets. They help me relax when things turn unpleasant.
What is your most challenging experience?
The most challenging experience for me is striking a balance between work and family. The demands of work are so high, especially now that I have a new assignment. Sometimes, it takes a toll on my family. Work can take away family time. I am just so fortunate that I have a strong family support that keeps me grounded. Of course, that is coupled with management.
At work, the most challenging experience is being the Acting General Manager of BACIWA. Being in this position demands so much patience and understanding, especially in dealing with controversies and issues that can break your spirit.
How do you deal with work-related issues? Controversies?
Issues and controversies pertaining to work are given. Accepting them as part of the job, I believe, is the best approach to deal with them. Accepting them, meaning, I have to live with them. I condition my mind that they are part of my work and when I have it locked in my system, I learn to embrace it fully.
But, of course, human as we are, I am also vulnerable to it, so I always go back to my constant support, my family. I spend time with them. I take long drives with my wife, Arlyn, and son Jared, who is now 13 years old. I also go to my parents' house. I window-shop. These are just some of my coping mechanisms to work-related issues and controversies.
Where do you see yourself 5 years from now?
Though the future is uncertain, five years from now, I still see myself employed at BACIWA and serving the people of Bacolod. I still see myself leading the District to a more productive partnership with PrimeWater.
What are the proposed projects of BACIWA and PrimeWater?
There are a lot in store for the people of Bacolod in this Joint Venture with PrimeWater. Certainly, there will be additional water sources to be developed, tapping of bulk water suppliers, and repair and maintenance of our pipelines and appurtenances.
The main endeavors will be based on these activities as these will bring immediate impact on the water supply and quality. This is a 25-year engagement and we are working closely with PrimeWater to improve our service to our concessionaires. – NWI