Santa came to town ahead of Christmas eve.
Agriculture Secretary William Dar yesterday turned over infrastructure projects, agricultural machinery and implements, distributed cash and food aid to thousands of Negros Occidental farmers, and signed agreements with a local government unit, a university, a non-government organization and a hog raisers' group worth over P615.5 million.
The agriculture chief, who flew in from Cebu, was joined by Gov. Eugenio Jose Lacson, Agriculture Assistant Secretary Noel Reyes, and DA-6 Regional Director Remelyn Recoter in ceremonies held at the covered court of the Panaad Park and Stadium in Bacolod City, where tractors, threshers, reaper-harvesters, among others, worth more than P206.8 million, were given to farmer-beneficiaries.
He was like Santa, Lacson told reporters.
Dar also led the distribution of cash and food assistance to 35,543 rice, corn, coconut, sugar farmers and fisherfolk totaling over P177 million. Each recipient was to get P3,000 in cash, P1,000 worth of rice, and chicken and eggs valued at P1,000 under the Social Amelioration Program for the agricultural sector of the Bayanihan 2.
He also signed agreements with the Multi-Sectoral Alliance for Development which received P1 million from the agency; Central Philippine State University, P2.5 million, for cacao, sweet potato and bamboo seedling bank development, and the town of Binalbagan, P5 million, for feedlot program.
After the Panaad activity, Dar inaugurated the P146.5 million Caduhaan-Dalayapan-Aluyan farm-to-market road in Cadiz City that will reduce travel time of commuters from upland sitios by as much as 56 percent.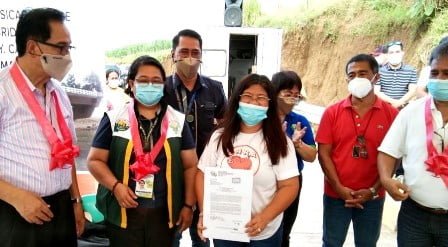 The concreted farm-to-market road will benefit close to 10,000 sugar, corn and rice farmers tilling more than 800 hectares.
Also inaugurated along at farm-to-market road was the P36.9 million Sicaba Bridge. Soon to be finished is the Dalayapan Bridge with a P23.4 million allocation.
The new road network now gives easy access to visitors, day-time tourists, campers, bikers and road runners, who frequent the upland Dalayapan Eco-Park Café which has been drawing big crowds on weekends before the pandemic. It has been a favorite destination of the locals.
Wilma Dignos, manager of the Caridad Hog Raisers Association, received the P15 million funding certificate for the CHRA's pork production and marketing.
But more than the early holiday gift to Negrenses, Dar also announced that P1.3 billion worth of infrastructure projects plus another P118 million for enterprise development, all under the World Bank-Philippine Rural Development Program, are up for implementation in Negros Occidental.
Cadiz City Mayor Salvador Escalante, Jr. thanked Dar and the DA for the farm-to-market road and the completion of the Sicaba and Dalayapan bridges, as he recounted that the upland area was almost inaccessible decades ago, and without the two bridges the lives of students were also in danger especially during the onset of the rainy months.
He said 20 years ago, when the late Gov. Alfredo Maranon, Jr. was still congressman of the Second District, he met one of the elder residents in Aluyan, Juanito Bejos, who had wished that a road be built in the area.
The former governor made a promise to Bejos. "Today, Gov. Maranon may no longer be with us. But the promise he made 20 years ago is now a promise fulfilled," Escalante said. – ETL