Sixty-two students will compete in the 8th Victorias Milling Company (VMC) Interschool Art Competition during the preliminary judging on Nov. 13 at Jamie's Café in Bacolod City.
This year's theme, "My Role in Society" aims to drive the value of growth and development among the youth and what they think their role should be in their community, the society, and in nation-building in general.
In the elementary category, the 20 students who passed the screening are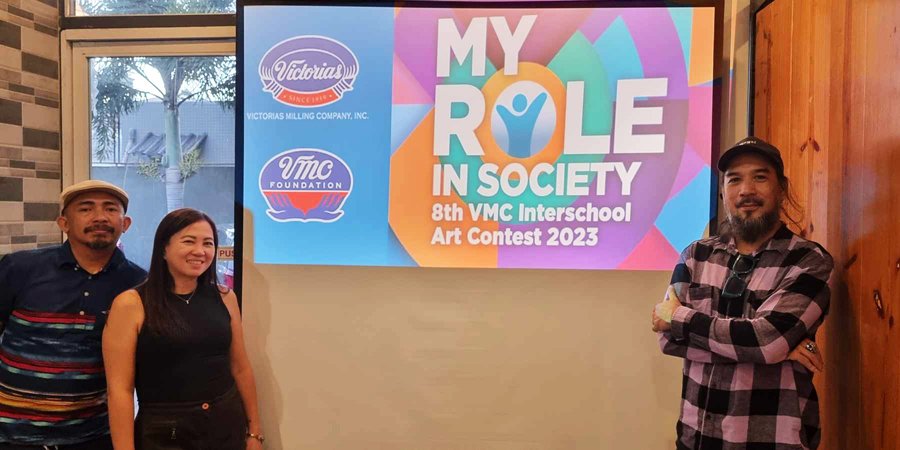 Chloe Anne Montaño, Glenierr Rose Alcabasa, Gwen Stacee Vicente and Kayecee Amber Bagatela of La Consolacion College-Bacolod; Ebrill Zoe Bolocon and Sheena Rain Reyes of
University of Negros Occidental- Recoletos; Illymari Ceniza of Cadiz East Elementary School-I; Jelaine Antonette Gomez of Center Phil. Montessori Bacolod; Sophia Emerald Caminong of
Gil Lopez Elementary School; Persius Mark Longero of La Castellana Elementary School; Khian Blacquio and Sarah Jane Damiray of Patlagan Elementary School; Zhyenaiah Tonogbanua of Shiloh Christian School Inc.; Heart Sta. Maria of Silay South Elementary School; Jomel Cotez of
Smile Village Elementary School; Kim Arianne Diosana and Princess Allanah Fuentebella of SPED Training Center;
Gwen Raylene Ereje of Talisay South Elementary School; Kris Edward Belaguas of University of St. La Salle–lntegrated School; and Narciso Mendoza of VICMICO Elementary School II.
In the secondary category, the 42 students who qualified are from La Consolacion College–Bacolod, including Anika Benjamin, Audrey Kaye Sarsona, Bear Jay Bermeo, Erin Ysabelle Dosayla, Jackie Louise Magpusao, Janin Maye Miranda, Jhodie May Salomon, Lexie Margaret Viñas, Nicolette Ayisha Medina, Ricardo Regalia III and Roshan Langreo.
Joining them are Bacolod Tay Tung High School's Dawn Marie Puentespina, Keisha May Britania and Jada Sadelle Maire Tamara as well as those from Cabug National High School – Beatrice Braza; Colegio San Agustin-Bacolod – Dagway Torreverde and Jamela Puntal; Dr. Vicente F. Gustilo Memorial National High School – Carla Salazar, Jeanie Rose Baril, John Steve Gabana, Kishian Faith Trofeo, Ma. Beatriz Espinosa and
Rafaylan John Otid; Enrique B. Magalona National High School – Adrian Andrade; Inocencio V. Ferrer Memorial School of Fisheries – Aulo Gil Santos; Isabela National High School – Neca Mae Abalunan and La Castellana National High School – Ellakim Peria, Lorenz Oscar Mendoza, Sophia Andrea Josue and Stephen Jay Gallano.
From Manapla National High School – Kurt Lennon Gonzales; Sicaba National High School – Janevie Cabula, Kyle Justin Pedrajas, Luckysha Lopez and Sabrina Nicole Delotina; St. John's Institute – Charlize Hailey Tabora; STI West Negros University – Fortress Ysmael Obas and Sean Leovi Barredo; University of Negros Occidental- Recoletos – Janine Subejano, Katherine Ibalobor and Xian Clive Villar; and University of St. La Salle – Mon Alyssa Cordero.
The on-the-spot competition will be held on Nov. 25 at the Grand Pavillion of the Acacia Convention Center in Bacolod City.
Winners in the elementary category will get P20,000 for the grand prize; P15,000, second place; and P10,000, third place.
Two consolation prizes of P5,000 each will also be awarded. A LED television will also be given to the winning school.
For the secondary level, the grand champion will receive P30,000 in cash; second placer, P20,000; and third place, P15,000 with two consolation prizes of P5,000 each. The winning school will also get an LED television.
All finalists will be invited to attend next year's VMC Summer Art Workshop where they will get an opportunity to have a one-on-one mentorship with professional visual artists.
The judges during the preliminary judging were Maureen Austria, Barry Cervantes and Architect Hilario III "Doods" Campos.||