Mayor Evelio Leonardia, Vice Mayor El Cid Familiaran, and Councilor Dindo Ramos led the turnover of additional water pipes to the Alangilan Highland Rural Waterworks Association in Bacolod City Jan. 24.
AHRWA president Doroteo Vallego said the pipes will help deliver ample supply of water to about 80 beneficiaries.
Five puroks of the barangay, including the Alangilan National High School and Arceo Elementary School, were the first to benefit from the project.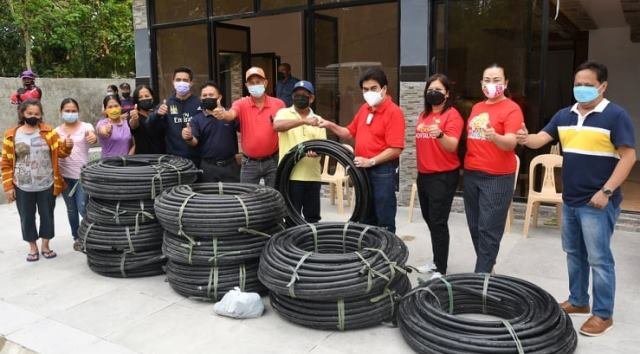 Present during the turnover were Barangay Captain Degie Tanista Sr., Alangilan National High School principal and AHRWA adviser Veneranda Ortono, association officers, EOC-TF executive director Em Ang and Cash Montalvo.
Meanwhile, seven members of the Bacolod Small Farmers Federation received financial assistance from the city government, also in Barangay Alangilan Jan. 24.
Judy Jinson, president of BSFF and chairman of the Adiangawan Small Farmers Association, thanked the city for the assistance.
The Association of Small Farmers-Purok Ilaya Inc., Alangilan Highland Rural Waterworks Association, Benny's Bendito Small Farmers Association, Kasamahan ng Magsasaka Association, Adiangawan Small Farmers Association, Cabutongan CARP Beneficiaries Association, and Purok 12-A Las Altas Small Farmers Association received checks of P70,000 each, a press release from the city said Jan. 25.
Ramos, Ang, and executive assistants George Zulueta and Ernie Pineda were present during the activity. | NND