The Memphis Mission of Mercy, a non-profit United States organization, is soon to build a P250 million  surgical hospital in Victorias City, Negros Occidental, mayoralty aspirant Javi Miguel Benitez said.
Benitez recently met with Dr. Dr. Nia Zalamea-Ducklo and her father, Dr. Renato Zalamea, founder of the Memphis Mission of Mercy, a United States-based non profit organization focusing on surgical humanitarian mission in the Philippines.
The proposed establishment of a surgical hospital in Victorias started during the term of the late former Mayor Remedios Palanca-Bantus, the great grandmother of Benitez.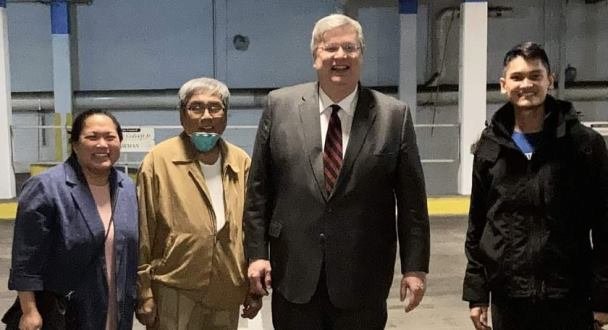 It was the late Mayor Bantug, who had brought the Memphis Mission of Mercy to the city, he said.
Benitez added that he was told by Dr. Nia, vice president and project director of the Memphis Mission of Mercy, that they are now ready to build a hospital in Victorias City after 19 years of serving the Philippines.
In December 2021, Benitez personally met with Dr. Ducklo and her father, Dr. Zalamea, to make a follow up of the project.
Benitez also met with Architect Carlos Arnaiz, who designed the proposed surgical hospital, in New York.
Arnaiz traces his family roots to Victorias City, where his great, great grandfather had lived.
Founded in 1999, the Memphis Mission of Mercy supplied more than $17.7 M free medical and surgical care, that were availed of by about 26,000 patients during its 22 trips to the country/
The group also conducted more than 900 major and minor surgeries with volunteer doctors, nurses and support staff, who are mostly Memphis-based.
Benitez said he was told by Dr. Ducklo, a general surgeon and a fellow of the American College of Surgeons, that it is their family legacy of servant-leadership, that inspired her to help those in need.
With intensive research as part of the project planning, Dr. Ducklo said the facility will provide ongoing surgical care, as well as educational development in partnership with the local medical community.
On the other hand, Benitez said he was told by Arnaiz that the hospital will have six operating rooms, a welcoming design, to include a large community space, a library, a small restaurant and chapel, volunteer dormitories, gardens and even a studio for a resident artist.
He added that the project will further strengthen access to primary health care and further improve medical services to all Victoriahanons.
"The dream of a hospital for Victoriahanons is now on track," Benitez said.| GB