Teleperformance (TP) Philippines, a leading global group in digitally integrated business services, received the Great Place to Work Certification for the fifth straight year.
The Great Place to Work® Institute recorded 85% responses from TP Philippines in the Trust Index® Survey, which is part of the certification process conducted annually by the institute.
The survey evaluates companies based on their employees' perception of them in terms of credibility, respect, fairness, pride, and camaraderie, among others. Only companies who have achieved at least 65% in the survey are qualified to receive the certification.
"I congratulate the TP Philippines team for the phenomenal 5-peat Great Place to Work® certification. This milestone achievement is so much sweeter with the company's impressive growth over the past years," said Teleperformance Philippines Chief Executive Officer Francisco Lara y Padilla.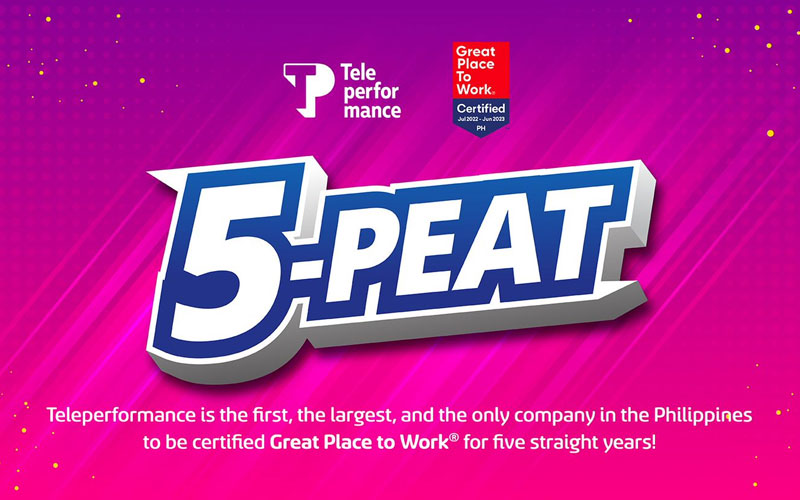 "Fueled by our passion, innovative spirit, and culture of excellence, TP Philippines is poised to be even stronger in the future," he added.
Joey Marquez, Teleperformance Philippines Chief Operations Officer, said being recertified by the Great Place to Work® Institute for the fifth year in a row is another milestone for TP and a testament to its vibrant, high-trust and people-centric culture.
"We are definitely honored to be a place of opportunity and growth for over 55,000 Filipinos. Surely, this will contribute to further our success in reaching our goals for our people, the business, and the community," Marquez said.
In 2021, the company launched the Cloud Campus solution, which is an innovative long-term remote work solution that allows home-based interaction experts to remain connected to their Teleperformance team through the Cloud Campus hubs.
Majority of TP Philippines' 23 business sites nationwide have also received a safety seal from their respective local government units. || PR