Landry Sanjo dropped 34 points while Frederick Elombi added 16, as Supreme ABF/Silver Graces defeated Acster Marketing, 82-69, in the nightcap of the opening day of the 1st UNBL Open Tournament Nov. 6 at Tay Tung High School Po Hang Gym.
A full packed Sunday crowd witnessed the twin towers duo of Sanjo and Elombi impose their will in the shaded area to create a match-up problem of Acster early in the game.
The duo was backstopped by playmaker Ramer Javillo, who scored 13 markers.
Acster was led by France Tono with 13 points while Richard Albo drilled in four triples for 12 points. Chibueze Ikeh netted 10 points and Joel Lee Yu hit 8 baskets for Silver Graces.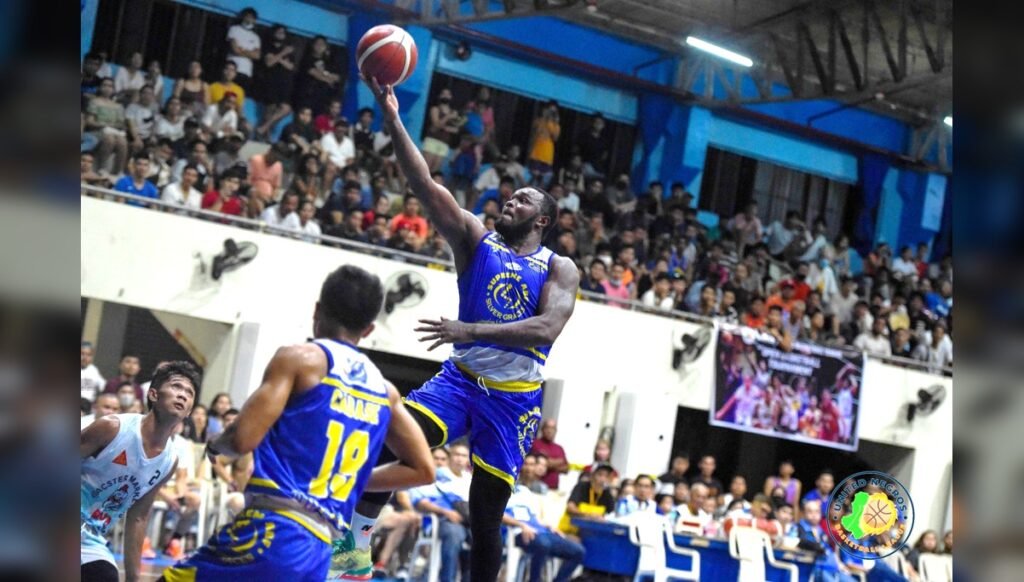 In the other game, Mark Dubouzet sizzled with 43 points to lead Team Davies Paints/LCC-B over USLS Stingers, 98-94.
LCC-B bucked five straight free throw misses to escape with the victory as ageless warrior Peewee Demonteverde added 11 points and Richmer Nombre shot 9 baskets.
USLS Stingers was spearheaded by Keith Rheileen Ortilano with 15 points, John Edmund Escultura and Mark June De La Cruz dropped 12 points each, Bonn Ernest Daja delivered 10 markers, Terence Buenafe with 9 points, Martin Jay Beatingo and Riggy Alinsoring scored 8 points apiece, and Andrew Velasco shot 7 points.
The Stingers held a 74-67 lead going to the fourth quarter, but Reniel Lima connected with 5 straight points at the start of the quarter before Dubouzet took over and scored 16 of the last 26 points for Team Davies.
In the curtain raiser, RA-AK Transport defeated Tea Tas/Puff Boys, 66-54.
RA-AK transport kept Tea Tas at bay as they never surrendered a double digit lead since the second quarter. Renz Solomon led a balanced RA-AK Transport offense with 10 points while May Parohinog added 8 and Mark Yee with 7 markers.
Seniyayi Camara led Tea Tas with 20 points while Cedrick Dibede shot 13 baskets for the losing team.
In the second game, Let's Go Strived-CSA-B relied on its veteran players to overcome Red House Taiwan Shabu Shabu /Uno-R, 79-67. Harvey Eslawa and Rowel Negro paced Strived with 16 points apiece.
Games are played every Saturday and Sunday afternoon at the TTHS Po Hang Gym./ST