More than 100 residents of Barangay Handumanan in Bacolod City availed of free medical and surgical services offered by the Rotary Club of Bacolod Central Saturday, Nov. 13.
Held at the NEDF Farm in the barangay, the mission was participated by doctors Jundad Legislador, who is also a past district governor of Rotary International District 3850, May Espina-Rife for obstetrics and gynecology, Noelito Recamara for internal medicine and Krisel Joy Gonzaga for pediatrics.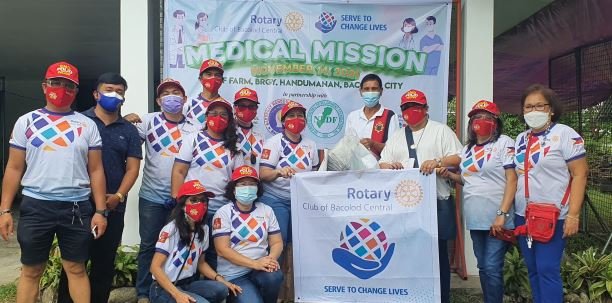 "In this time of pandemic when focus is mainly on the COVID virus, access to other basic health services have been limited," said club president Floressa May Castro.
She added that Rotary, as a community partner, saw the need to fill in this gap with health protocols observed.
The activity is part of the club's project on health and disease prevention, which is one of Rotary's Areas of Focus – water and sanitation, peace and conflict resolution, maternal and child care, environment, economic and community development and basic education and literacy.
The mission was in coordination with the Barangay Handumanan Council led by village chief Ricardo Danoy, Negros Economic Development Foundation, SM Foundation, Nepan Sales Inc., San Miguel Foundation and Rotary International District 5110 of Oregon, USA. — PR