The Province of Negros Occidental has partnered with Carlos Hilado Memorial State College (CHMSC) based in Talisay City to grant 200 post-graduate scholarships for Negrense government employees.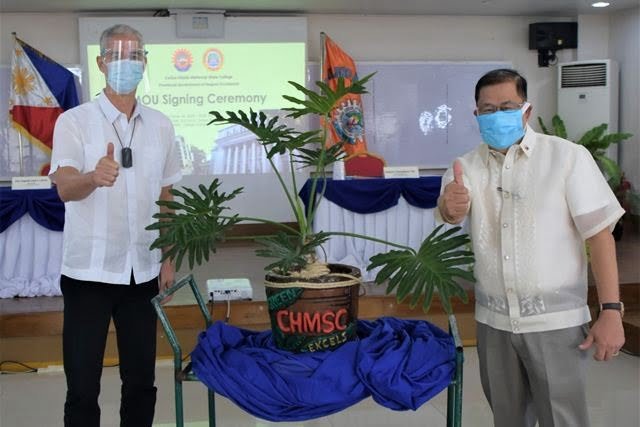 The agreement was sealed during the signing of the memorandum of understanding (MOU) between Governor Eugenio Jose Lacson and CHMSC President Norberto Mangulabnan held at the college's Green Building today.
Lacson said he has always acknowledged the need to empower government employees, and the occurrence of the coronavirus disease 2019 (Covid-19) pandemic has just amplified the importance of government work.
"In the midst of this challenge faced by the government, we have our employees silently working day in and day out to deliver the necessary governmental services needed by the public, despite their personal fear of the virus," the governor said in his message.
Lacson pointed out that the need to empower government employees has gone beyond the question of choice, and has become a necessity.
"It is for this reason that this MOU signing ceremony is more meaningful today," he added.
Provincial Administrator Rayfrando Diaz II said the provincial government conceptualized the program to boost the morale and give encouragement to state workers amid a global pandemic.
The granting of scholarships will start on the second semester of academic year 2020- 2021.
The CHMSC has designed a specialized program on leadership excellence and good governance through continuing professional education for grantees of graduate studies in Master in Public Administration and Doctor in Public Administration.
The province will ensure the availability of funds of the program, determine the scholars to be admitted, and monitor the progress of the scholars while the school will admit the grantees upon compliance of admission requirements and assist in the scholar's progress monitoring.
Negros Occidental Scholarship Program Division head Karen Dinsay said the slots will be available for Capitol employees as well as for workers of various local government units in the province.
She added that security and law enforcement personnel such as those from the Philippine Army's 303rd Infantry Battalion, Negros Occidental Police Provincial Office, and Bureau of Fire Protection can also apply.
"CHMSC is truly grateful for this opportunity to be of service to our fellow Negrenses. Continuing and advancing education is something that is innate in the development and nurturance of our people…Even during these most trying times of Covid-19 pandemic, education must be provided and sustained, lest we succumb to stagnation and possible loss of human capital," Mangulabnan said.*NLG