The Historical Marker of the Panilongon (Negros) was unveiled in a ceremony in Dumaguete City recently, as part of the Quincentennial Commemorations in the Philippines of the First Circumnavigation of the World.
Panilongon was a place name recorded by the survivors of the Magellan-Elcano expedition, particularly chronicler Antonio Pigafetta and pilot Francisco Albo.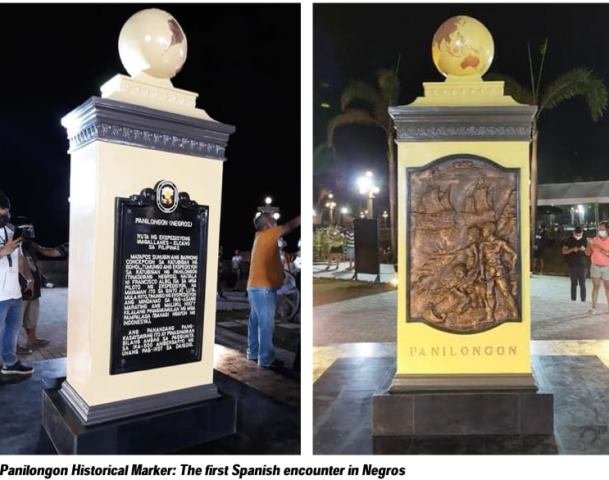 Both of them were certain that Panilongon was near the islands of Bohol and Cebu. Albo said it was located across the southernmost cape of the island of Cebu, which is the town of Santander today.
Opposite Santander is the Negros island. Pigafetta and Albo described the inhabitants of Panilongon with a complexion as dark as the people of Ethiopia. (Negros was so named Negros, which in Spanish means 'people with a dark complexion', about the Ati tribe of the island.)
The use of Panilongon was lost through time, probably because it was renamed. It can be the present-day Barangay Manolongon in Sta. Catalina, Negros Oriental, probably a large territory extending to as far as Dumaguete in the ancient times, but this needs thorough historical research. Or most likely, the place name became extinct due to depopulation, caused by the reduction or the transfer of natives from disparate places into a community center called población during the Spanish colonial rule.
The contextual clues left by Pigafetta and Albo prompted the National Historical Commission of the Philippines to choose Negros as the approximate Panilongon from 500 years ago. And why Dumaguete?
It is because Dumaguete is the capital city of this side of the island that was historically relevant to the Magellan-Elcano expedition – the Province of Negros Oriental.
After passing by Panilongon, the rest of the expedition went to Kipit in Zamboanga del Norte, Mapun in Tawi-Tawi, Palawan, Tagusao, Balacbac, Cape Palawan, Sulu, Tagima (Basilan), Cawit, Subanin, Manalipa, Maguindanao (Cotabato), Benaian (Kamanga), Batulaki, Candighar (Balut), and finally Saragani, then on to the Moluccas.
The 2021 Quincentennial Commemorations in the Philippines is pursuant to Executive Order No. 55, series of 2018, which created the National Quincentennial Committee for the purpose.
The markings of the 34 sites in the Philippines' route of the Magellan-Elcano expedition is in solidarity with the international project of tracing the route of the unprecedented achievement of humanity and science which proved that the world was indeed round.
Between March 16 and October 28, 2021, the 34 historical markers with reliefs will be unveiled in the Visayas, Palawan, and Mindanao.
The event in Negros Oriental was attended by Governor Roel Degamo, Cabinet Secretary Karlo Nograles, Undersecretary Ramon Cualoping, Congressman Manuel Sagarbarria, Undersecretary Marvin Gatpayat of the Presidential Communications Operations Office, Lessandro Maraon of the Office of the Presidential Assistant for the Visayas, Dumaguete Mayor Felipe Antonio Remollo, and historians, among others. – NWI