About P2.8 million in suspected shabu was seized and five suspects were arrested in buy-bust operations in Bacolod City Friday and Saturday.
Dan Aldrick Ballesteros, 19, was arrested with three large plastic sachets of suspected shabu, weighing about 396 grams and with an estimated market value of P2.6 million, during a buy-bust operation in Purok Sigay, Barangay 2, Bacolod City, at about 10 a.m. on April 17.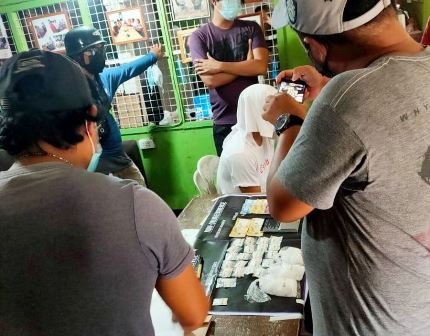 Also recovered were 21 medium heat-sealed plastic sachets and a small sachet containing white crystalline substance believed to be shabu, a weighing scale, and two P500 in marked money.
Ballesteros, in a media interview at the NBI Bacolod Office, denied that he owned the illegal drugs, and claimed that he was sleeping when the operation was conducted in his house by operatives of the Regional Special Operations Group 6, PNP Drug Enforcement Group, NBI Bacolod, and Bacolod Police Station 2.
He was brought to the NBI Bacolod custodial facility for further investigation.
Around 8 p.m. on Saturday, operatives of Police Station 4 apprehended Garyn Jimena, 41, in Purok Sabes, Zone 1, Barangay Villamonte.
The suspect sold a sachet of suspected shabu worth PHP500 to an undercover policeman, leading to his arrest.
He also yielded nine elongated and four big sachets of the prohibited substance weighing about 12 grams with an estimated value of P81,600.
Four street level target drug personalities were also arrested in buy-bust operations in Bacolod.
Police Station 7 operatives arrested Friday evening in Purok Mainabyanon, Barangay Alijis, Romulo Dipon, alias Jun jun, 32, single of Bangga ECC, and Antonio Dipon, alias Tonio, 32, single of Purok Mainabyanon, both in the barangay, and Garry Velez alias Garry, 32, single, of Purok Million Flower in Barangay 34, Bacolod City.
The operation yielded nine heat-sealed transparent plastic sachets of suspected shabu, weighing 17.5 grams, and worth P119,000.
Police Station 9 operatives also arrested Ronald Tingson, 32, of Purok Kawayanan, Barangay Cabug, in a drug-bust operation in Purok Torrecampo in the barangay on Saturday. He was nabbed with five small plastic sachets of suspected shabu, weighing 0.5 gram, and worth P5,000.
Lt. Liberty Indiape, spokesperson of the Bacolod City Police Office, said the suspects are now in custody and charges for violation of Republic Act 9165, or the Comprehensive Dangerous Drugs Act of 2002, will be filed against them. – MML