An innovative way of fishing method was introduced and slowly being adopted by fishermen in Brgy. Tomongtong, EB Magalona in Negros Occidental in catching the famous blue crabs.
Fishermen in the barangay, who use fish nets and panggal (crab cage), have started using "keming", an improved version of the traditional crab cage.
"Keming" is economically viable compared to fish nets and "panggal" (bamboo sheets) according to Municipal Environment and Natural Resources Officer Jojo Vargas.
While they have to fix their nets regularly after catching crabs or spend more for fish meal as bait while using "panggal", the fishermen only need these handy cage or "keming" and tahong or shellfish for bait, Vargas said.
They do not have to spend for baits since tahong is abundant in the coastal waters of EB Magalona, he added.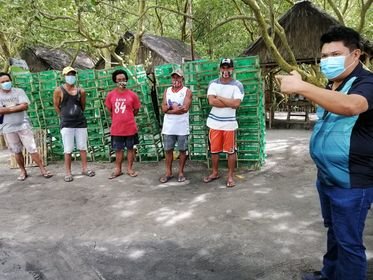 Aside from blue crabs, assorted fish are also trapped inside "keming" cages resulting to additional income for fishermen, Vargas said.
To help the crab catchers and promote the use of "keming", Mayor Marvin Malacon provided 500 cages for the first batch of beneficiaries from Brgy. Tomongtong on Oct. 21.
To instill "Bayanihan" spirit, the mayor encouraged the fishermen to produce the next set of 500 cages for their peers by setting aside P100 day to buy the materials needed in making "keming".
Malacon said he will also ask the Sangguniang Bayan to allocate funds in next year's budget to promote the use of "keming" in other town coastal barangays of EB Magalona.
To address the concerns of the fisher folk about "compradors" (intermediaries), the mayor said buying stations will be put up in the coastal barangays where fishermen can directly sell their catch.*