Bacolod City Mayor Evelio "Bing" Leonardia assured PNP chief, General Guillermo Lorenzo Eleazar, of the continued support of the city government to the local police, and said 12 service vehicles will be turned over to the Bacolod City Police Office.
Leonardia and Vice Mayor El Cid Familiaran welcomed Eleazar during his courtesy call at the Bacolod City Government Center yesterday, to personally thank the mayor for his help to the BCPO.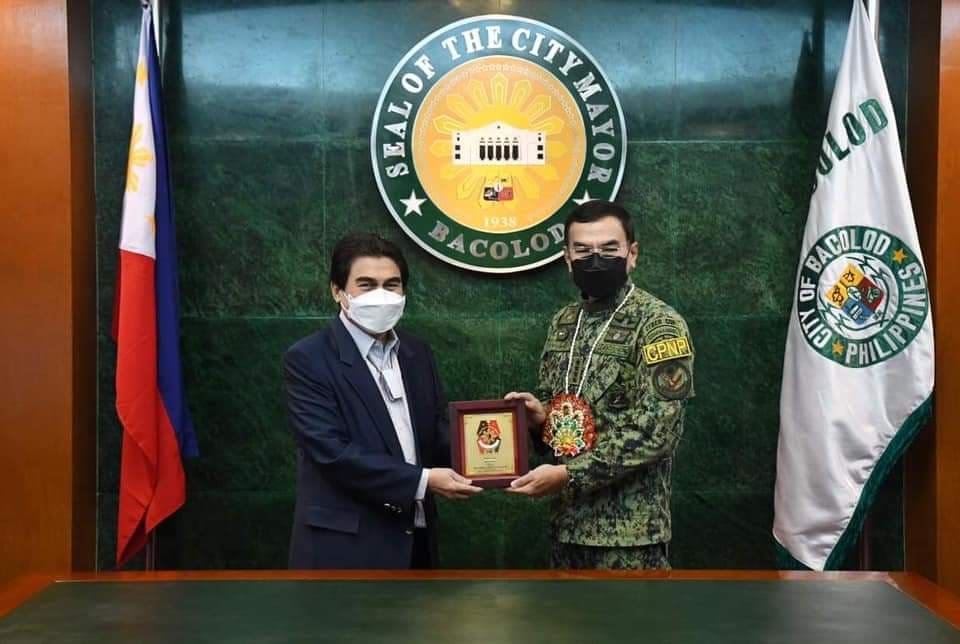 "I am also giving my commitment to the mayor that the police is here to make good connections with our LGU in line with our service to the people," Eleazar said.
He told Leonardia that before he visited the BCPO headquarters and the Government Center, he first inspected one of the police stations in the city.
"I saw that the station was neat inside and out. This reflects on the discipline of our police, which we know will be appreciated by our citizens," he added.
Eleazar said he told newly-designated BCPO acting director, P/Lt. Col. Joseph Martir, to "continue the programs of previous BCPO directors, maintain good relationship with the different stakeholders, and make sure to avoid violence or crimes, especially that the election is near."
"We also gave a directive to review past violent incidents and see if there are private armed groups operating here. We also make sure that candidates will not be able to raise (election) funds through the use of illegal means, like illegal gambling, illegal logging, and any illegal activities, including extortion," the PNP chief added.
Leonardia said that with the appointment of Martir, he believes that the local government and the police can be more coordinated since the latter is a Bacolodnon.
Eleazar was accompanied by P/Lt. Gen. Bernabe Balba, directorate for Integrated Police Operations-Visayas, P/Major General Bartolome Bustamante – directorate for Police Community Operations, P/Brig. General Rolando Miranda – regional director of the Police Regional Office-6, Martir, P/Col. Gregory Bogñabal – senior executive assistant to PNP chief, and P/Col. Roderick Augustus Alba, chief of the PNP Public Information Office, who is also a Bacolodnon./MML