In May, we lost two great artists in the field of visual arts, and the Negros Oriental art community paid tribute on different social media platforms to remember them.
Negrense and Paulinian visual artist in painting, Carmencita del Puerto Carballo, was born in Pamplona when it was still a part of Tanjay City. She departed for Madrid, Spain, and had since been a permanent resident there.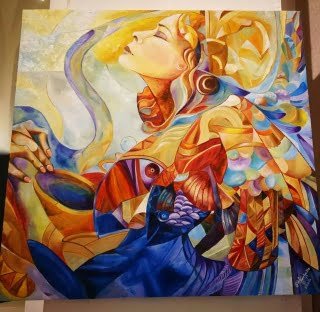 Carmencita del Puerto Carballo, or Tita Ging Ging, believed that life is a continuous happy adventure. She graduated from St. Paul University of Dumaguete, with a degree in Bachelor of Science in Commerce. She received a Loyalty Award gold medal which is given only to college graduates, who attended SPUD from kindergarten to college.
In her college years, she was awarded a one-year full scholarship by the Board of Faculty Members and Dean for being the editor-in-chief of the school organ, "The Paulinian". She was also president and vice president of the Glee Club for two consecutive years. She was a concert pianist, who graced the Philamlife Auditorium, St. Paul University Manila, and UST Concert Hall.
After graduation, she proceeded to study Philosophy and Letters at the Ateneo de Manila University but came back to SPUD (formerly SPCD) as dean of the College of Commerce (now College of Business & Information Technology).
In 1976, she departed for Madrid, Spain. She continued her intellectual and cultural concerns by learning commercial Spanish language at the Estudio Internacional Sampere, and French at the Academia Francesa. To obtain primary knowledge on computer technology, she registered at St. Louis University, Madrid for Basic Computer Science.
To enrich her love for the arts, she took up oil painting classes in 1994 from a professional German-Dutch painter, and continued to take classes if she was not doing a self-study in painting. As a member of the Conil Collective of Artists in Cadiz, Spain, her works have been exhibited in individual or group expositions in various cultural centers and institutions. The most recent was at the Sta. Catalina Cultural Center and Spanish Red Cross Art charity exhibit in Conil, Cadiz, Spain.
For those who live in Negros Oriental, do include in your itinerary a visit to Hotel Casa Rubin in Dumaguete City, or to Bayawan Boutique Pension in Bayawan, where Tita Ging Ging Carballo del Puerto had a permanent exhibit.
She was also a published literary contributor in Spanish to Azahar, an international poetic magazine.
She joined our creator last week of April 2021. A true Filipino-Spanish in her heart, and in her art, she is one of the humble artists of our time.
***
Serafin Miguel Diaz Teves III, Nito to his friends, was a nurse, visual artist, sugar planter, cultural and heritage advocate, social historian of Bais City, and vocal advocate for local cultural preservation.
He was born on August 25, 1956 to then Bais City vice mayor and freemason Serafin Montenegro Teves Jr. and Malueca Arnaiz Diaz.
He studied briefly at Silliman University in 1973-1974, before transferring to De La Salle University-Manila where he graduated in 1981. He worked in various capacities in banking, finance, and insurance, before going back to school to earn a nursing degree at Silliman University, graduating in 2007.
He worked as nursing supervisor at SureCare Home Health Services and at Affinity Home Health Care, before he was employed with the Philippine Coconut Authority, and S.L. Teves Inc. and S.L.Teves Realty Development Corp.
As an artist, he dabbled briefly in film, had his first solo art exhibition in 1989, and was part of the group exhibition "Taguik-Diwa" in 1992, art exhibit in 1985 in Bais City, Cebuano art exhibit in 1988 at the USC Museum in Cebu, and the Negros Oriental Centennial Art Exhibit in 1990.
He was president of the Philippine Chamber of Handicraft Industries in 1993-1994, and became an advocate of preventive conservation for local cultural heritage.
Nito died on April 29, 2021.
We remembered two great artists, who inspired us to do the best we can in our community, and inspired me to help others with kindness, generosity of heart, and to share my talent as an artist. – NWI